"Engraved Portraits of American Patriots by Saint Memin in 1796-1810." DAR Magazine (Mar 1916).
Charles Balthazar Julien Fèvret de Saint Mèmin, French Artist, 1770-1852
---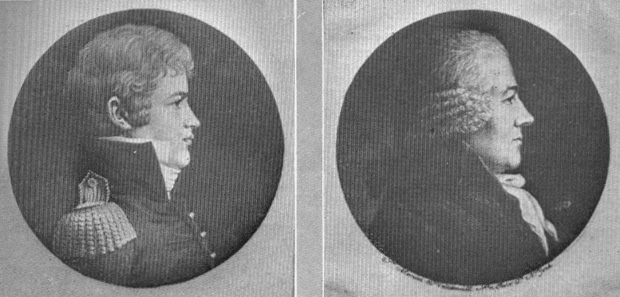 Left: Capt. John Navarre Alexander Macomb, Jr. Right: Alexander Macomb, Sr.
---
Alexander Macomb, one of the early fur traders of the great Northwest, was born in Belfast, Ireland, on July 27, 1748, and came to America in 1757. With steadfast purpose and unfailing courage he won a livelihood from the wilderness. In Detroit, Michigan, he married "Catiche" (i.e., Catherine) Navarre on May 4, 1773;
she died on November 17, 1789 leaving ten children, and he afterward married in New York, Mrs. Jane (Marshall) Rucker, grandmother of Joseph Daniel Henry Rucker, Quartermaster General, U. S. Army, of Civil War fame.
Macomb was for many years a prominent merchant of New York city, having removed there in 1784. In 1791 he purchased from the commissioner's land office of New York, three million, six hundred, thirty-five thousand, two hundred acres of land at 18 pence per acre; the magnitude of the sale and its price creating a veritable sensation.
John Navarre Macomb, [note: image is mis-identified, and actually is that of his younger brother Alexander Macomb, Jr.] eldest son of the fur merchant, was another of the family group whose likeness was traced by Saint Memin before he [Macomb] sailed for England. While on that voyage, the packet ship, Princess Charlotte, was attacked by a French privateer, and in assisting in repelling the attack John Macomb was shot and killed. He was buried in Falmouth, England. His wife was Christina, daughter of Philip and Sarah (Johnson) Livingston [that is, Philip P. Livingston, son of Philip the signer of the Declaration and Christina Ten Broeck]; they had seven children, among them Edward, a surgeon in the U. S. Navy; and John, a captain in the U. S. Army [later Col., Corps of Engineers].
---
Shirley Stanton adds,


The Saint Memin portrait of John Navarre Macomb at Clermont is #55. If you get a copy of Ellen Miles' book, 1994,"Saint Memin and the Neoclassical Profile Portrait in America", you will find the Clermont pieces. She is either curator or director of the National Portrait Gallery in DC. [mdl: Following Shirley's lead, we find that the portrait here identified is of Alexander Macomb, Jr. and not of his brother John Navarre.]

Lloyd, Marshall Davies, "Macomb Family Portraits by Saint-Memin," (mlloyd.org).

Miles, Ellen G[ross].

[Charles Balthazar Julien Fèvret de] Saint-Mèmin and the Neoclassical Profile Portrait in America. Ed. Dru Dowdy. Washington D.C.: Smithsonian Institution Press, 1994. (LC: NE650.S33 A4 1994)
Saint-Memin, Charles-Balthazar-Julien Fevret de, "An Album of Saint-Memin Portraits" (Rice), The Princeton University Library Chronicle XIII:23-31; Rice , Howard C., Jr. "Saint-Memin's Portrait of Jefferson" (Rice), The Princeton University Library Chronicle (1959) XX:182-182.
According to Arthur Adams in The Hudson River Guidebook, Tivoli was settled by a Frenchman named Peter de Labigarre who called his home the Chateau de Tivoli. He engaged a man named Charles Balthazar Julien Fevret de Saint-Memin to draw up a plan for the town. His plan called for 60 feet wide streets but the lots they created did not sell. [mdl: Having gone bankrupt, the property was sold to Chancellor Livingston] Today two street Flora and Diana remain today.
See APPLETON'S MAGAZINE, JULY 1906; SAINT-MEMIN, CHARLES BALTHAZAR JULIEN FEVRET DE
---