Michigan's Adjutants Generals
---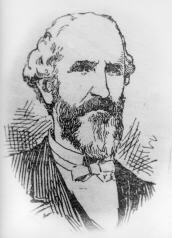 George McDougall
The Adjutant General of the Michigan Territory
29 September 1806 - 1 August 1818
George McDougall was the son of Lieut. George McDougall of the Royal American Regiment, a native of Scotland, who was at Detroit during Pontiac's siege. A few years after this event, he obtained title to Hog Island (Belie Isle) and thereby started a controversy which is still of interest to the people of Detroit. He died at Carleton Island, April 8, 1780 [mdl: Denissen reports Montreal]. In 1763, he had married at Detroit, Mary Frances Navarre, daughter of Robert Navarre and Mary Lootman dit Barrois. Their son, George, the subject of the present sketch, was born at Detroit, Oct. 13, 1766 [mdl: Denissen has Oct. 19, 1766, St. Claire, MI]. He became a lawyer, but in addition to his legal practice he held various offices and engaged in diverse activities. He was a man of eccentric temperament, so much so that he seems to have been regarded by his contemporaries as somewhat abnormal mentally. In 1810, he was foreman of the grand jury which presented Governor Hull and Judges Witherell and Woodward for tyrannical conduct. At a subsequent date, he was disbarred by the judges for his conduct before them, and the prohibition was removed only after he had made a humble apology to the court. Notwithstanding his quarrelsome disposition, McDougall was popular with the French element of Detroit whose language he spoke as fluently as he spoke English. In his later years, prosperity forsook him and he obtained an appointment as lighthouse keeper at Fort Gratiot on the St. Clair River. This position he retained until his death, about the year 1840.
McDougall was a man of historical tastes, and preserved until his death a collection of papers pertaining to early Detroit which were subsequently utilized by Francis Parkman in writing his Conrpiracy of Pontiac. McDougall died a bachelor. Information adapted from Denissen, op. Cit.; Robt. B. Ross, Early Bench and Bar of Detroit (Detroit, 1907), 142-P4; Mich. Pio. Colls., XXXVI, 210-11; and mss. in Burton Hist. Coll.
Reverted to First Lieutenant Fourth Infantry, May 17, 1899. Promoted to Captain December 1, 1899. Promoted to Major and assigned to First Battalion, First Infantry, January 26, 1905. Promoted to Lieutenant Colonel, First Infantry, January 17, 1914. (Regiment redesignated 31st Infantry, April 22, 1915.) Appointed The Adjutant General of Michigan with rank of Colonel, June 23, 1915. Served as Draft Executive for Michigan during the World War. Graduated from Army War College, 6-I Course, 1924. Graduated from Garrison School for Officers, U. S. Army, at Fort Wayne, Michigan, in 1907 (four-year course).
Retired from Adjutant General's Office with rank of Colonel, August 8, 1940, after serving more than 25 years in that capacity and 51 years as an active member of the Michigan National Guard.
Return to the Michigan Military History Home Page

[MI NG History] [Museums] [Flags] [Monuments] [MI Military History] [General Military History]

If you have interesting information about Michigan's military past, or know of another related website, please email the Department of Military and Veterans Affairs, Command Historian,
1LT William Wilcox
, with the details. Thank You.

| | | |
| --- | --- | --- |
| | Information made possible with the help of: | |