Index of documents: (color pictures are ADDITIONS to articles)
| | |
| --- | --- |
| Date | Subject: |
| 09/24/1860 | Peter Navarre. Pictorial Field-Book of the War of 1812 |
| 03/21/1874 | "Death of Peter Navarre." Toledo Commercial |
| 03/21/1874 | "Peter Navarre." Toledo Blade |
| 03/22/1874 | "Peter Navarre; Death of the Scout of the Maumee Valley." New York Times |
| 02/22/1877 | "Peter Navarre." Transactions, Maumee Valley Pioneer & Hist. Assoc. |
| 1879 | "Peter Navarre." Harper's Monthly XXVII, 291 |
| 1890 | "Peter Navarre." Wing's History of Monroe County Michigan |
| 1895 | Histoire des Canadiens du Michigan et du comté d'Essex, Ontario |
| 05/24/1900 | "For Ohio's Daniel Boone." Delphos, OH, Daily Herald. |
| 05/11/1904 | "Tomahawk of Peter Navarre." Toledo Blade. |
| 1913 | "Peter Navarre, the Scout." History of Monroe County |
| 08/10/1922 | "Navarre Descendant Tells Exploits of Peter and his Brothers." Toledo News Bee. |
| 09/09/1922 | "Park Will Get Cabin." Toledo Blade |
| 09/09/1922 | "How I Slew Tecumseh!." Toledo News Bee. |
| 09/11/1922 | "Navarre Cabin is Dedicated." Toledo Blade |
| 1923 | Navarre Park. Toledo and Lucas County. |
| 1933 | Peter Navarre. Dictionary of American Biography. |
| 10/05/1936 | "Peter Navarre Portrait Hung." Toledo Blade. |
| 09/24/1937 | "Navarres, Peter and Robert, Made History for East Side." Toledo Blade. |
| 07/27/1939 | "Reward for Scout's Scalp." Zanesville, The Times Recorder. |
| 1940's | "Peter Navarre, Early Settler of East Toledo." Toledo Blade. |
| 1957 | Cabin moved from Park to Zoo. |
| 1970's | "Navarre Cabin To Get a New Look." Toledo Blade |
| 1987 | "Early Settlements, 1760-1837." Toledo Profiles. |
| 06/28/1987 | "Scout Role Made Navarre Famous." Toledo Blade |
| 1988 | "Pierre Navarre." Encyclopedia of Frontier Biography. |
| 1989 | "Standing for Two Centuries: the Navarre-Anderson Trading Post," Michigan History. |
| 09/04/1989 | "Memories Are Readied For Peter Navarre Day," The Press. |
| 09/29/1995 | "RE: History." Ruby Rohrlich. |
| 1999 | "Peter Navarre." American National Biography. |
| 09/20/2001 | "Artist's View Of Old Toledo Returns To City." Toledo Blade |
| 09/19/2002 | "Navarre Elementary School Honors Its Namesake." Toledo Blade |
| 02/18/2004 | "Hall of Fame Will Honor Four for Civic Roles." Toledo Blade |
---

---
Re: Sept. 24, 1860; written 1867
Benson J. Lossing. Pictorial Fieldbook of War of 1812: or, illustrations, by pen and pencil, of the history, biography, scenery, relics, and traditions of the last war for American Independence, 490-1. New York: Harper & Brothers, Publishers, 1868.
---
| | | |
| --- | --- | --- |
| A Visit to the Maumee Valley. | Interesting travelling Companions | Peter Navarre |
---
I visited the theater of events just described, on the 24th of September, 1860, and had the singular good fortune to be accompanied by L. H. Hosmer, Esq. of Toledo, author of The Early History of the Maumee Valley, and the venerable Peter Navarre (A Canadian Frenchman), General Harrison's trusty scout, already Mentioned.1 [1Peter Navarre was a grandson of Robert Navarre, a French officer who came to America in 1745. He settled at Detroit, and there Peter was born about the year 1790, and, with his father and family, settled at the mouth of the Maumee in 1807. At that time Kan-tuck-ee-gun, the widow of Pontiac, was living with her son, Otussa. She was very old, and was held in great reverence. Navarre was at the Prophet's Town, on the Wabash, with a French trader, when Harrison arrived there just before the battle of Tippecanoe, but escaped. He joined Hull's army at the Rapids, was with him at Detroit, and, after the surrender, returned to the Raisin and enlisted in Colonel Anderson's regiment. He was there when Brock was ordered to surrender (see page 291), but was afterward compelled to accompany the British as a guide up the Maumee, where, as we have seen, he deserted and fled to Winchester's camp. He was an eyewitness of the massacre at the River Raisin. After that, Navarre and his brothers were employed as scouts, and performed excellent service. He is a stout-built man, of dark complexion, and is now [1867] about eighty years of age. He speaks English imperfectly, as the Canadian French usually do. The above portrait is from a daguerreotype taken in Toledo when he was about seventy years of age, and kindly presented to me by Mr. Hosmer.] Navarre resided about twenty miles from Toledo, and had come into the city on business two or three days before. Mr. Hosmer, aware of my intended visit at that time, had kindly detained him until my arrival. Only two days before, I had enjoyed a long conversation at the "West House," in Sandusky City, with General Leslie Combs, who had just visited Fort Meigs for the first time since he was there as a soldier and prisoner in 1813. That visit had recalled the incidents of the campaign most vividly to his mind, and he related them to me with his usual enthusiasm and perspicuity. With the solder's description in my memory, and the historian and scout at my side, I visted Fort Meigs and its historical surroundings under the most favorable circumstances.

The night of my arrival at Toledo had been a tempestuous one--wind, lightning, rain, and a sprinkle of hail. The following morning was clear and cool, with a blustering wind form the southwest. We left the city for our ride up the Maumee Valley at nine o'clock, in a light carriage and a strong team of horses. Mr. Hosmer volunteered to be coachman. Our road lay on the right side of the river; and when nearly seven miles form Toledo we came to the site of Proctor's encampment, on a level plateau a short distance from the Maumee, upon land owned, when we visited ---end page 490--- it, by Henry W. Horton. Across a small ravine, a few rods farther southward were the remains of old Fort Miami, famous, as we have seen, in Wayne's time, as one of the outposts of the British, impudently erected in the Indian country within the acknowledged territory

---end page 491---



---end page 492---




When we arrived at the ferry station opposite Toledo, the boat had ceased running because of low water. The wind had been blowing stiffly toward the lake all day, so we left our team ot be sent for, were borne over in a skiff at the moderate price of three cents apiece, and were at the "Oliver House" in time for a late dinner, an a stroll about the really fine little city of Toledo1 before sunset. [1 Toledo is on the left bank of the Maumee River, near its entrance into Maumee Bay, at the lake terminus of the Wabash and Erie Canal. It covers the site of Fort Industry, a stockade erected there about the year 1800, near what is now Summit Street. It stretches along the river for nearly a mile and half, and the business was originally concentrated at two points, which were two distinct settlements, known respectively as Port Lawrence and Vistula. Toledo was incorporated a a city in 1836, and has now [1867] almost twenty thousand inhabitants. Little more than thirty years ago Ohio and Michigan disputed firmly for the possession of Toledo--a prize worth contending for, for it is a port of great importance. They armed, and an inter-state war seemed inevitable for a while. It was finally settled by Congress, and Toledo is within the boundaries of Ohio. For a full account of this "war," see Howe's Historical Collections of Ohio, and Major Stickney's narrative in Hosmer's Early History of the Maumee Valley.] At that hour I parted company with Mr. Navarre, with heartfelt thanks for his services, for he had been an authentic and intelligent guide to every place of interest at and around Fort Meigs. I spent a portion of the evening with General John E[lliot]. Hunt (a brother-in-law of General Cass), who was born in Fort Wayne in 1798. His father was an officer under General Wayne at the capture of Stony Point, on the Hudson, in 1779, and composed one of the "forlorn hope" on that occasion. Although General Hunt was only a boy at the time, he was attached to General Hull's military family during the entire campaign which ended so disastrously at Detroit at mid summer.

At ten o'clock in the evening I bade good-by to kind Mr. Hosmer, and went up the Maumee Valley by railway to Defiance, where I landed at midnight, as already mentioned,2 [2 see page 332.] in a chilling fog.

---end page 493---
---

---
Toledo Commercial, March 21, 1874

SIXTY YEARS AGO
---
Death of Peter Navarre, the Famous Scout of the War of 1812.
---
Yesterday the venerable Peter Navarre died in East Toledo, at the boarding house of Mrs. Rogers, and thus closed the life of one who played a distinguished part in the terrible struggle which secured to us the possesion of all this Northwestern territory. PETER NAVARRE was born of French parents, at Detroit, in 1785, and was consequently in his 89th year. His grandfather, ROBERT DE NAVARRE, was an officer in the French service, and emigrated to Canada in 1745. In 1807 his parents removed to Cedar Point, on the southern cape of the Maumee Bay, and there NAVARRE has ever since made his home.
He and his brothers early became noted for their courage and skill in woodcraft, so much so that the Indians of the country, while being on the most friendly terms with the young Frenchmen, also had a most wholesome respect for their prowess.
PETER in his youth and prime has been described as being over six feet in height, slender and straight as an arrow, and swift and active as a panther. He excelled in all feats of agility, and especially in running had no equal among the red men. He retained his activity until late in life. At the breaking out of hostilities with TECUMSEH, NAVARRE and his brothers, four in number [read five in number: five exclusive of Peter, not five brothers inclusive of Peter]--took sides with the Americans, and soon distinguished themselves by their courage and efficiency. The troubles with Great Britain followed close upon the heels of the Indian war.
On the 1st of June 1812, General HULL started from Dayton with his little army of 2,000 men, which the War Department fondly hoped would be sufficient to conquer Canada, and on the 24th he reached the Rapids of the Maumee, where he was joined by the NAVARRES, and several other frontiersmen. NAVARRE participated in the futile advance which HULL made into Canada, and the inglorious retreat to Detroit. After the still more inglorious surrender of that place, NAVARRE escaped, and made his way back to the American lines, in company with Major WILLIAM OLIVER and the Shawanee Chief, LOGAN. The two latter later made their way from Gen. HARRISON'S headquarters at Cincinnati, and reached the beleagured beleaguered Fort Wayne in season to save that garrison from falling into the hands of Tecumseh.
NAVARRE, who seemed to have an especial luck at this time in getting into trouble, attached himself to General WINCHESTER'S command, and was with him when he made his ill-fated advance to the River Raisin; he perticipated participated in the victorious engagement of the first day, and joined his advice to that of other experienced scouts in warning General WINCHESTER of the injudicious conduct which rendered the army an easy prey to the enemy, and made the famous "massacre of the River Rasin" possible. NAVARRE managed to escape, his knowledge of woodcraft giving him advantages which he turned to good account.
After this, he rejoined General HARRISON, and performed distinguished service in passing through the lines of the hostile Indians and bearing dispatches to Governor MEIGS, and the commanders at Upper and Lower Sandusky, giving information of the investment of Fort Meigs. The letter to Governor MEIGS was delivered to that gentleman at Urbana, the fifth day after NAVARRE received it at Fort Meigs.
He accompanied General HARRISON in his advance upon Canada, having joined the Kentucky cavalry of Colonel General RICHARD M. JOHNSON, and was among those that killed TECUMSEH. He said of the death of this chieftain:
"He was standing behind a large tree that had blown down, encouraging his warriors, and was killed by a ball that passed diagonally through his chest. After death he was shot several times, but otherwise his body was not mutilated in the least, being buried in his regimentals, as the old chief desired, by myself and a companion at the command of General HARRISON. All statements that he was scalped or skinned are absolutely false."
KNAPP'S History says:
While at Malden, Gen. PROCTOR of the British army, offered the Indians $1,000 for the scalp of NAVARRE, and was informed that if he wanted it he must excercise more than ordinary courage and vigilance, as in times of peace the Indians had taught him all their knowledge of woodcraft, and now it was almost impossible to capture him.
After the war NAVARRE returned to his home at Cedar Point, where he has resided since. He married, and raised a large family of children. His sons all inherit their father's soldierly spirit, and all of them served through the last war with great credit. Two sons are now in the regular army, and the others are settled on the River Raisin.
He was granted a pension of $8 a month by the Government, which has served to eke out the scanty income produced from his farm. A few weeks ago, when he became ill, he sought the house of his old friend, J. KENT SEAMAN, who took him in and carefully tended to him, until compelled to go to St. Louis, when he had him removed to the Temperance Hotel, where he died yesterday morning [March 20,1874] at 6 o'clock. There was little doubt from the first that his end was near, though his mind had failed greatly and he was hardly conscious of his situation.
Efforts were being made yeasterday to secure him a public funeral appropriate to his distinguished services. It was proposed that the military, Pioneer Society, City Council, and other civic bodies turn out, and the cost of interment to be defrayed by the public. This seems very proper, and the voice of the people will heartily approve of the City Council's making a suitable appropriation to make the demonstration a handsome one. It is said that the funeral will take place this afternoon at 2 o'clock in the French Catholic Church in East Tolodo Toledo, but the character of the public demonstation was not communicated to us last night by those who had the matter in charge.
---

---
Toledo Blade, March 21, 1874 (from transcription).

PETER NAVARRE
---
This morning the Scouts Texas Jack, Buffalo Bill and Wild Bill visited East Toledo to pay their tribute of respect to the late Peter Navarre who in his time had been a scout, renowned for his daring and personal bravery, and whose knowledge of Indian warfare and wood craft made him a terror to the red man and incalculable service to the early settlers of the Maumee Valley.
Funeral Service for the Late Peter Navarre will occur this afternoon at the French Catholic Church [St. Louis] in East Toledo, Ohio.
Pallbearers will be
Mayor W. W. Jones--J. J. Mavoer
Gen. John E[lliot]. Hunt--Henry Bennett
Judge John Fitch--Kent Seaman
Charles Kent--Russell Daniels
Manor Brigham
---

---
New York Times, March 22, 1874, P. 4.

PETER NAVARRE
---
DEATH OF THE SCOUT OF THE MAUMEE VALLEY.
Peter Navarre, a scout who performed valuable services for the army in the Maumee Valley in the war of 1812,died in Toledo, Ohio, on Frriday morning, at the age of eighty-nine years. The Toledo Blade says:
"Peter Navarre was born at Detroit in 1785. (Lossing gives the date of his birth as 1790, but this is undoubtedly and error.) He came to the Maumee country in 1807, with his parents took up his residence at the mouth of the river. This region of country was then in its wildest state. Among his neighbors were the widow of the renowned Indian Chieftain, Pontiac, and her son. The community was peopled almost entirely by Ottawa Indians, governed by a descendant of Pontiac. Navarre first joined the army (of Hull) at the Maumee Rapids, and went with it to Detroit, where he remained until the surrender, when he joined the command of Col. Anderson. He was at one time forced by the British to act as their scout through the Maumee country, but escaped from them and became an eye-witness of the masscre at the River Raisin. It is stated upon good authority tha had the commanding General (Winchester) at that battle listened to the counsel of Navarre and his brother scouts, that disaster would have been avoided. Upon the completion of Fort Meigs he bacame a scout for Gen. Harrison and it was he who first dicovered the approach of the Indians upon that fortification, while in the act of crossing the rapids, just above where Maumee now stands. He was daily assigned to some dangerous duty, but was always faithful in its perfomance, and was sent by Gen. Harrison to communicate the news of the attack upon Fort Meigs to the posts of Upper and Lower Sandusky, and to the Governor (Meigs). Navarre was at the battle of the Thames and saw Tecumseh fall and assisted in burying the old chieftain. The sum of $1,000 was offered the Indians by Gen. Proctor for the cunning Frenchman's scalp, but his knoledge of woodcraft was so great that he eluded all efforts to capture him, and his pursuers were often made to repent the folly of their chase. As old age crept on, Mr. Navarre took up residence on the east side of the river, six miles from the city."
---

---
Kent, Charles, Esq. "Peter Navarre." response to the fourth toast delivered 22 February 1877 during the dinner at Boody House after the meeting of the Maumee Valley Pioneer and Historical Association at the Wheeler Opera House. Transactions at the Annual Meeting of the Maumee Valley Pioneer Historical Association 1 (Toledo, OH: Blade Printing and Paper Co., 1877), 61-65.
---
The Boody House Hotel, at Madison and St. Clair Streets, named for Wabash Railroad President Azariah Boody, was the social and business center of the city for fifty years. Toledo's first telephone (1878) operated between the Western Union building and the hotel's railroad ticket office. The Greenback Labor Party was organized in the Boody House that same year. A Toledo landmark for fifty-five years, the Boody House hotel opened in June 1872 with 133 guest rooms, each with its own fireplace. Hot and cold water ran in each room, a novelty for the day. The building was torn down in 1928 to make way for the Ohio Savings Bank and Trust Company.
Photograph, silver gelatin, ca. 1900
Toledo Public Library
The fourth regular toast, "Peter Navarre," was given by the Vice President, and responded to by Charles Kent, Esq. [Charles Kent was one of Peter's pallbearers, see Toledo Blade, 21 Mar 1874].
Mr. President:
While pioneers of one origin [the British] are recalling the events of their early settlement, and reviving reminiscences of their own personal experiences, it is not unfitting to be reminded of the still earlier pioneers of European race who first settled in our Valley [the French]. We must not judge of these hardy men by the remnant still left about our bays and marshes and looked upon and named with too much contempt. We must remember that it was this people who first explored this North American continent from the Gulf of St. Lawrence to the Rocky Mountains, and from the Lakes to the Southern Gulf. From them are named our lakes and rivers, which they traversed as zealous missionaries of their religion, enduring hardships exceeded by none suffered in the same cause elsewhere or at any time; or as hardy traders they threaded every channel of water communication of this vast continent, in pursuit of the only merchandise [furs] then known to exist among its inhabitants. Nowhere west of Montreal were their numbers sufficient to leave a controlling influence upon the future of this great country; but had they been sufficiently strong to have occupied the whole country, instead of the scattered villages on the streams [call to mind how often in the accounts of Lewis and Clark, their expedition arrived in some remote western location only to find a French trapper already living there! We remember well the names of Lewis and Clark, but have long forgotten the names of those trappers who proceeded them]; had they not succumbed to what we boastfully call a stronger race, what a different civilization would have been developed in this country of ours! They were a people of seeming contradictions in character. As light hearted and gay, as careless and improvident as were their fathers in bright and sunny France, yet---end page 62---toughened by the vigors of a Canadian climate, until their powers of endurance were equal to those of any of the Northern tribes, that in all history have come down upon and conquered, the more civilized Southrons. To-day, as I have seen on the lower St. Lawrence, these "habitans," in a climate and on a soil that would tax the utmost of human strength for a simple existence, are just as social, gay and careless, as though their soil and climate gave spontaneously all that life needed, and yet these same people, like their ponies, will astonish us by their powers of endurance on so small a supply of physical support.
These same seeming contradictions made the character of those early adventures, and the exploits of these coureurs des bois, these runners of the woods, are worthy of remembrance, as of the fore-runners of civilization, if they themselves did not lend to it any contributions.
Of this stock was Peter Navarre, and it is because he was a representative man, and the last among us of his class that I have so spoken of his origin. He was born in 1785 at Detroit [(probably March 28, 1790) Since Peter's older brother Robert was born 8 Sep 1785, that year is unavailable for Peter], where his father before him [Francis Mary Navarre "dit Utreau" b. November 19, 1759], and perhaps his grandfather [Robert de Navarre b. prob. France], had been born. In 1807, Peter, at the age of 22 [prob. 17], and his elder brother Robert [Robert Hutro Navarre, at age 22], erected their cabin near the mouth of the Maumee, on the East side, and in that neighborhood he continued his residence until his death. What had been young Peter's education up to this time? What schools had he attended, and for what position in life had he been fitted? These questions are soon answered. He was linguist enough to speak his native French after the Canadian dialect, and to speak well the Pottowottomy [Potawatomi], besides enough of one or two other Indian languages to get along either in trade or travel, although he could neither read nor write even his French [or even sign his name except by mark], such as it was. He understood the science of woodcraft [i.e., knowledge of the woods, NOT woodworking as this statement has been interpreted by others], although he knew nothing of mathematical instruments, but his was practical knowledge, such, probabably, as mathematician could never learn. His study of men had been such that in after [read as "later life"] life it stood him in good stead; for when disguised as an Indian, he knew so well how to play his part that Indians themselves were deceived.
But one thing he had equal to any man I ever knew--the bearing of a gentleman, and one could not be five minutes with him without noticing it. Whether it was natural or inherited, or whether he had some early training, which we do not know, this is true that during his whole life he was a gentleman of gentlemen not in his bearing only, but in his feelings and his whole conduct.
Thus educated and supplied with a capital which he could always take with him, young Peter was ready to commence business. From 1807, for four successive winters he, in the employment of some house in Detroit, wintered with the Miamis near Fort Wayne, buying furs, which in the spring he took by canoes to Detroit. Strange that this---end page 63---was the chief if not the only commerce between the Wabash and the lakes; but such as it was, Peter got his share, and after the manner of his kind, he was prosperous enough to be contented and happy.
While pursuing his occupation in Indiana, he became acquainted with the celebrated Miami Chief, Little Turtle, and was his guest during the last winter he was there. In the fall [November, 1873] before Peter died, for professional purposes, I wished some information concerning the descendants of the old Chief, and went to Peter for it. I found him in a miserable shanty among the bayous and marshes of Cedar Point [now Little Cedar Point; Peter did not die in this shanty, he lived for some time with his nephew Robert R. Navarre, son of Peter's brother Robert Hutro Navarre; his nephew then took him to the inn located on Front St. between Euclid and Main, run by Mrs. Hannah Rogers, widow of Ambrose H. Rogers (Toledo News-Bee, 10 Aug 1922); Peter died at the inn a week later, 20 Mar 1874]. He was sitting alone, sick and totally blind, shivering over the remnant of an old stove, which scarcely held fire enough to counteract the chilly November wind. I spoke to him, and knowing my voice, he appeared gratified at my visit. I soon said to him, "Uncle Peter, I wish to know if you ever knew the old Miami Chief, Little Turtle?" He brightened up at the name, as though pleasant recollections came to him, and said, quickly, "What, Little Turtle, the great Indian? I knew him well--he was a gentleman." Without knowing it, he repeated the characteristic given the old Chief by Volney the celebrated French traveler, but I relate the incident because it shows not only the character of the man enquired about, but illustrates the enduring friendship of Peter, which indeed often toward others, I found to be a leading trait of him. One of these winters while at Fort Wayne, a deep snow fell. The commandant of the military post there wished to send dispatches to Fort Defiance. To you I need not say there was no way to do it but on foot. The commandant, to save detailing for this arduous service, called for a volunteer. No soldier seemed willing to undertake it. Young Peter Navarre, who stood by, said, "I will go;" and so he did go; and sixty years afterwards the old man in relating the exploit, would say that with one exception it was the hardest time he ever had, and would add with justifiable pride, "but I did it."
The war of 1812 put an end to these business engagements, and he never afterwards went to the State of Indiana.
No men were more loyally attached to their government than the Canadian French on this border during that war, and none of them more forward in offering their service than the Navarres; four brothers of them--Robert, Peter, Alexis and Jaquot [i.e., Jacques], or James [there were six brothers in all--two other brothers, Anthony and Francis Xavier are here left out; at least two first cousins also served, Col. Francis Navarre of Monroe (whose home served as Gen. Winchester's headquarters), and Gen. Alexander Macomb, who later went on to become the commanding General of the Army]. They [the four brothers] went to Detroit to offer their service to Gen. Hull. While there Peter accompanied a delegation of his old friends, the Miamis, to offer their services to the government. When 89 years of age the old Veteran when asked by me in taking his deposition, which side in the war the Miamis took, said with indignant vehemence in relating the incident: "I, Peter Navarre, and my brother Robert, with our own ears heard Gen. Hull say, 'No! go home and keep quiet:'" Peter had expected that their---end page 64---offer would be accepted, as he very well knew that they were of the kind not to keep quiet, and they did not, but took the British side.
On their way back to Detroit from raising a company of their neighbors about Maumee Bay and the Raisin, the Navarres found that Hull had surrendered, and they were claimed as prisoners and paroled.
Peter always with scorn repelled the idea that he ever violated a parol. He was too true a man to have done so had he supposed it to be binding upon him, but his claim was that he was not in the military service, and they had no right to parol him. Gen. Proctor afterwards kept a standing offer of a reward for his head or scalp. Of course, at the approach of Harrison's army, Navarre was among the foremost to offer his services. They were accepted, and as a scout for Gen. Harrison he remained and acted till the close of the war. After the battle of the Thames, he it was who first recognized the body of the slain Tecumseh.
I have not the time to relate all that I myself have heard the old man relate as to his adventures. He said no Indian could recognize him [as not being an Indian] unless he was personally acquainted. He knew their languages and could so imitate their manners that to themselves even he was an Indian.
He was 72 years of age when I became acquainted with him [abt. 1867], but by accident my introduction was such that I had his confidence. He was fond of relating his early experience, but before strangers he was reticent. The worst night he ever spent in his life, he used to say, was in going from Fort Meigs to Lower Sandusky. Gen. Harrison sent for him, and asked him if he thought he could take a dispatch to Fort Stephenson. "I will try this night," was his answer. "But there is a terrible thunder shower," said the General. "All the better for my purpose," replied Peter; "it will help me get through the Indians." The next morning that dispatch was delivered at Fort Stephenson, and the morning after that Gen. Harrison had the answer to it. Those who hear me know what it took to accomplish that. I justify the old man who, when he would relate this exploit, would put on a glow of pride and straighten himself up to his full dignity--and he had more of it in his bearing than any man I ever knew.
Here then was a soldier who never commanded even a squad of men, he planned no campaign, in fact be did nothing such as will be related in history to make him a hero. Yet who shall say that his service is not entitled to praise equal to its value equal to the courage and endurance, to say nothing of the tact and mental qualifications required to perform it? Many an officer, whom history will name, could have better been spared from that army than this poor, illiterate Frenchman.---end page 65
That he had become warmly attached to his General, was evident from his emotion whenever he heard him named.
His country neglected him, and although poor, he never complained. Only within three or four of his last years did he receive a pension [and then by act of Congress], because his name was on no enlistment roll.
After the war he returned to his place near the mouth of the River, in the neighborhood of which he continued to reside until his death, although he never settled down to agriculture, or to anything that men of our like call business. Most of us in his latter years have known him, and we shall not soon forget the tall and erect form of the octogenarian as he often appeared in the streets of our city, respected by all that knew him. He died, as he had lived, landless and poor, and was properly buried at the expense of your Society.
His virtues may have been those of his class, and doubtless many of them were, but in degree so intensified that it made him a representative man, and it is as such that I pay him this tribute, as probably the last of that class we shall have within our bounds.
As to his vices, if he ever had any, I have never heard of them unless we call a vice the utter inadaptability of the old voyageur to any kind of settled work recognized by thrifty people.
When on that bleak day of March, 1875, we placed his remains in the grave, the earth of Toledo held those of no truer patriot, no more faithful friend nor nobler gentleman by nature, than PIERRE NAVARRE.
---

---
Wing, Talcott E. "Peter Navarre." In "Biographies of Residents on the River Raisin Prior to the War of 1812." Chap. 11 in History of Monroe County Michigan (Illustrated), 125-26. New York: Munsell & Co, 1890.
---
PETER NAVARRE
Was born in 1785 in Detroit, where his father before him was born, and was the grandson of Robert Navarre, a French officer who visited this section in 1745. No name is more prominent among the early settlers than that of Peter Navarre. In Indian methods of warfare he was thoroughly posted, courageous and brave, while his bearing was ever that of a "born gentleman." With his brother Robert he erected a cabin twenty miles south of River Raisin, opposite Manhattan, to which he returned after the close of the war and spent the rest of his days. He died in March, 1874, aged eighty-nine years.
Peter and his three brothers, Robert, Alexis and James, tendered their services to General Hull. They were included in the surrender and paroled, though they denied the right to be treated as prisoners of war and at once took an active part for the United States, whereupon General Proctor offered a reward of two hundred pounds for Peter's head or scalp. Until the close of the war he acted as a scout to General Harrison. Peter Navarre and his brothers are referred to in this work in the history of the War of 1812, as those sent by General Harrison from the River Raisin to reconnoiter the British army, and brought news of the approach of General Proctor. On the next page is given a portrait of Peter Navarre in passing through a forest in his favorite character as a scout.
Many of our older citizens well remember the hospitable tavern of "Ma'am Jobin," as it was familiarly called, four miles south of Monroe, on the south bank of Otter Creek. Her husband and Peter Navarre, the Indian scout, upon whose head a large price had been set by the British if captured, were during the War of 1812 taken prisoners by the Indians, bound hand and foot, and were being carried as captives to Malden. Encamping over night on the route, in the morning their hands were loosened for temporary relief, and after breakfast Mr. Navarre said to Mr. Jobin : "Now is our time. If we reach Malden we will be hung, and I would rather take my chances of being shot than go any further with our captors. You take one direction, I will another." Both immediately ran for their lives; the balls whistled about and above them, but both escaped without injury.
PETER NAVARRE,
IN THE DRESS OF A SCOUT
---

---
Bulkley, John McClelland. "Peter Navarre, The Scout." In "French and Yankee Pioneers." Chap. in History of Monroe County Michigan: A Narrative Account of its Historical Progress, its People, and its Principal Interests, 505-7. New York: The Lewis Publishing Co., 1913.
---
PETER NAVARRE, THE SCOUT
The reminiscences of the pioneers in the "River Raisin country" are replete with interesting incidents in their own and their neighbors' experiences. They were thrown into companionship with men of marked characteristics, brave, generous and true. Narratives by men who came into the wilderness at a very early day almost invariably mention that intrepid Frenchman, whose name is a familiar one all along the frontier, and an historic one in the events which called into play the sagacity and the diplomacy of his race. This was Peter Navarre, whose life in the forest, very largely among the redmen and the coureurs de bois and the voyageur was an education along the lines which led to great usefulness, and made him one of the most picturesque figures of the early years of the eighteenth century. He was born in Detroit in 1745, his grandfather being the elder Robert Navarre, who came there in 1730, and who was deputy intendant, and royal notary in the service of the king of France, and was generally employed in some responsible public service. The king's dues were payable to his receiver; the intendant or local receiver and Robert Navarre's name is the first to be found in that capacity; the judicial or notarial duties were not heavy, but the receipts for the king were considerable, both in money and wheat, and the sub-intendant was curator for the public property, not strictly military. For a period of years intrigues with Iroquois chiefs went on, leading often to very dangerous situations, requiring great watchfulness and diplomacy on the part of the commander at Detroit. Hearing that the English had designs on the White river and the Wabash country, Céloron, a former commandant at Detroit, in 1743, allowed men and supplies to go from Detroit to open a trade with a body of Senecas, Onondagas and others of the Five Nations who, to the number of about six hundred had settled there, and who professed friendship. Robert Navarre was sent out to examine and report upon the prospects, and was intrusted with important duties in connection. Peter, the grandson, inherited many of ---end page 505--- his ancestor's traits and was a popular man with all classes, wherever circumstances placed him, of indomitable courage and honesty which gained for him the respect and friendship of the Indians, for which the aborigines were not especially notable for the last named trait themselves, they admired the exercise of it in others. He was frequently at Frenchtown, and spent much time here with his relatives. About the year 1807, he went to the Maumee valley and [along with his brother Robert] erected a log cabin on the east side of the river, which stood there a landmark for many years. He was of course familiar with the Indian language of various tribes especially the Pottawatomies, and knew intimately their great chief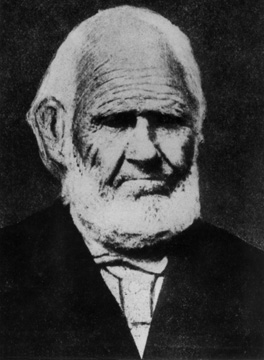 PETER NAVARRE


The old French scout of the River Raisin in General Hull's and General Harrison's army, and an eye witness of the massacre of the River Raisin, January 23, 1813, present at the veterans' reunion, Monroe, July 4th, 1872.
Tecumseh, and his brother, who was known as the Prophet; and his services as interpreter were greatly in demand; he was in the service of General Hull, and was included among the men surrendered when Detroit fell into the hands of the British, but escaped and made prisoner by a tribe of hostile Indians by whom however, he was soon released. He was often importuned by the British to join them, but nothing could move him in his loyalty to the American cause, and to his countrymen. He was employed in Harrison's army as scout. When this active connection with the Americans was learned by the British colonel, Proctor, he offered a reward of two hundred pounds for his head, "dead or alive. "
---end page 506---
One of his old compatriots, an aged veteran of Toledo, knew Peter Navarre intimately until his death, in 1874. One of the tales narrated by this old resident as told by the old scout, concerned a remarkable achievement when serving as a messenger between General Harrison at Fort Meigs, and Major Croghan who was in charge of Fort Stephenson. The distance between the points on an "air line," was upwards of thirty miles--through an almost untrodden wilderness [the Black Swamp], destitute of even an Indian trail. He started in the darkness of evening, and had traversed not more than ten miles, when a terrific storm arose; this did not prevent the scout from plodding along in the intense darkness, with falling limbs and trees endangering every foot of the way. He reached Fort Stephenson in safety early the following morning, narrowly escaping a band of Indians en route. After delivering his papers to Major Croghan, and receiving his instructions from him, he started on his return journey, arriving at Fort Meigs near midnight--safely performing the feat of the sixty mile journey with no guide in the dense woods, save his knowledge of wood craft which was not inferior in any respect to the most expert savage.
Another of Navarre's adventures occurred when he was sent to Presque Isle by General Harrison to ascertain if there were Indians camping there and their number. He was accompanied by a soldier, and reached Presque Isle at night. A hooting was heard during the night by his comrade, who naturally remarked that it was an owl in the woods. The old scout, however, was not deceived; he was too familiar with that signal of the woods Indian, and told the soldier to remain quiet for a few minutes, and he would see the "owl." It was winter and snow covered the ground. They waited quietly for a short time, when a dark form glided through the forest, but it was not an owl, simply a retreating Indian. When he had been gone a few moments the two men started to reconnoiter, and discovered the camp, but could not tell how many Indians were there, as they did not care to incur the danger of a too close inspection at that time. Peter's companion was in favor of going back and reporting their discovery, but Peter opposed this and suggested an expedient, by which they might get rid of their foes without a fight. The old scout took the powder horns of both, and commenced shaking the powder out upon the snow, at the same time making numerous tracks about to convey the impression that there were quite a company, instead of two persons. The theory was that the Indians discovering the foot prints and the powder on the snow, would conclude that "discretion would be the better part of valor," and make their way in some other direction very hastily. The theory was at once proved to be a wise one, for the next morning the scouts found that the Indian camp had been abandoned and not one of the number was to be seen or heard of.
---

---
Pearson, George W. "Tomahawk of Peter Navarre." Toledo Blade, prob. week of May 11, 1904.
It is certainly true that it was Xavier "Xavia" Navarre who lived closest to Presque Isle. Notice Pearson doesn't question whether the gun or tomahawk is Peter's or not. While it is still possible that the gun is Peter's [He may have given the gun to Xavia's father], it is more likely that, if the fellow who gave them to Hollington is Xavia Navarre, the long gun and tomahawk are of Xavia's own father Alex Navarre--especially since the rifle we have of Peter was still in the possession of a descendant.
---
TOMAHAWK OF PETER NAVARRE
---
The following self-explanatory letter from Rev. R. D. Hollington, of the Kenton M. E. church, was received today [May 11-12, 1904?]:
Geo. W. Pearson, East Toledo, 0.:

My Dear Sir:--Last Saturday evening [May 9, 1904] I was very much interested in reading your account of Peter Navarre, published in The Blade. It brought to my mind a thing of which I had not thought for years. When I was in the Toledo public schools I was much interested in the early history of the Maumee valley, especially in the Indians, and used to spend my Saturdays along the banks of the river, looking for Indian pottery and silver ornaments, and especially in the neighborhood of Presque Isle. While on one of these hunts I became acquainted with a man whose name I remember as Henry Navarre--at least the last name was Navarre--who lived near Presque Isle. While visiting him, one day, he showed me a long gun and also a tomahawk, which he said had belonged to his father, Peter Navarre. Upon a later visit he gave me the tomahawk, which is pounded iron, with a pipe in one end.
I thought I would offer the loan of this tomahawk to Ford Post, as it might stimulate interest in the project which they have on foot.
If you find the facts to be as I have given them I shall be glad to send you the tomahawk with this one reservation, that when Ford Post is through using it, it shall be properly labeled and put in Memorial hall, as an addition to their collection. Assuring you of my interest in your endeavor to perpetuate the memories of the early heroes of the Maumee valley, I am,
Yours very truly,
R. D. Hollington,
(Honorary) Chaplain 111th 0. V. I.
Kenton. 0. May 10, 1904
The Blade was fortunate in seeing Lambert Navarre, of Yandota, after receiving this letter. He explained that the man referred to by Mr. Hollington was Xavier Navarre, nephew of Peter Navarre.
---

---
Bridgewater, William. "Pierre Navarre." Dictionary of American Biography. Vol. 6. Ed. Dumas Malone. New York: Charles Scribner's Sons, 1933: 395-96. See also American National Biography, 1999.
---
NAVARRE, PIERRE (March 28, 1790?-March 20, 1874), fur-trader and scout in the War of 1812, was born in Detroit. His grandfather was a well-known settler, Robert Navarre; his father, François dit Hutro (or Utreau) Navarre. His mother, through her mother, was a member of the Campau family, probably Marie Louise Godet, though Pierre at one time gave her name as Marie Louise Panat Campau. He was also inconsistent in giving his age and was generally considered to be eighty-nine at the time of his death, although he was probably five years younger. The family moved to the River Raisin country when Pierre was still young, but it was not until about 1807 that he and his elder brother, Robert, built the cabin near the mouth of the Maumee which was to be Pierre's permanent home. The boy, inured to the woods and skilled in Indian ways, became a fur-trader, and is said to have traded with the Miamis at Fort Wayne, where he made the friendship of Chief Little Turtle [q.v.].
When the War of 1812 disrupted the border trade, Navarre and three of his brothers joined the army of General William Hull. They were included in the surrender of Detroit, but, released on parole, went to the River Raisin, where they served as scouts to General James Winchester. They managed to escape from the massacre in January 1813, and a little later, Navarre became a scout in William Henry Harrison's army. Many tales were told in later years of his daring adventures: of his great speed in carrying messages over the wilderness trails; of his courageous escape after capture by the British; of his racing the British to carry the news of their approach to Fort Stephenson. He was present at the battle of the Thames, where his services were valuable because of the respect that the Indians in the British service had for his abilities. Navarre himself said that he witnessed the death of Tecumseh and that he was one of the soldiers detailed to bury that chief.
After the war, he devoted himself again to the fur trade, and was probably the Pierre Navarre who was employed as a trader in the St. Joseph's and Kankakee Outfit of the American Fur Company in 1820. After a disagreement with his superior, Navarre was discharged, only to be hired by William H. Wallace, another Company trader, to trade near Terre Haute, Indiana. He was again discharged. Later Navarre left the fur trade and spent the rest of his life on his farm near Toledo. In 1864 a special bill was introduced into Congress to grant him a pension of eight dollars a month. The bill was reported adversely by the Senate committee, but the pension was later granted and helped to swell his scanty income in the last years of his life. As an old settler and a veteran of the War of 1812, he was held in some respect at Toledo. He served for a time as president of the Maumee Valley Pioneer Association. He was twice married: in 1825 to Geneveva Robert, who died in 1827, and some time later, to Catherine Bourdeau. He was survived by several children, two six [Daniel, Eli, Oliver, Peter, James, and Lambert] of his sons having served in the Civil War.
---
[Clark Waggoner, History of the City of Toledo and Lucas County, Ohio (1888); H. L. Hosmer, Early History of the Maumee Valley (1858); Pioneer Collections, Report of the Pioneer Society...of Mich., esp. vol. 5 (1884), Cong. Globe, 38 Cong., I Sess., pp. 1531, 2272, 2274, 2279; Christian Denissen, Navarre, or Researches after the Descendants of Robert Navarre (1879); Toledo Times, Feb. 2, 1931; American Fur Company Letterbooks (photostats), in Burton Hist. Collection, Detroit] W.B.--r.
---

---
Toledo News-Bee, August 10, 1922

NAVARRE DESCENDANT TELLS EXPLOITS OF PETER AND HIS BROTHER
---
WHEN Toledo unites on Sept. 9 to honor its most heroic figure, Peter Navarre, scout of the War of 1812, his five brothers, Robert, James, Anthony, Francis and Alexis, also will share in the glory of the occasion.
They also had exciting careers. The youngest, Alexis, once was tied to a tree on Presque Isle by indians, who intended to burn him, relates Mrs. Robert Navarre, 312 Fassett st., a daughter-in-law of Robert Navarre.
While the Indians were out in the woods searching for more wood, an old Indian squaw crept up to Alexis, and cutting the strips of basewood bark, by which he was bound, told him to run for his life. Assured that she would not be harmed for her deed, he fled.
Robert, the eldest, Mrs. Navarre says, was, in contrast to Peter, sober and earnest. He was married to a French girl named Susanne Maure, whose catechism, now 111 years old, Mrs. Navarre still treasures. A violin, now in the posession of Edward Navarre, 424 Morrison dr, is the instrument she used when playing for the dances in the cabin which is to be dedicated at Navarre Park on Sept 9. Robert died at the age of 70.
The six brothers dressed alike. Each carried a crucifix suspended from the neck. as the Indians became acquainted with the intrepid sextet the fame of the crucifixes spred, and many times their lives were spared when they displayed them.
Popular as Peter was, and numerous as was his progeny and acquaintances, he died away from them all. After remaining with his nephew, Robert Navarre Jr., for some time, he asked to be taken to an inn kept by a woman by the name of Rogers.1 The inn was located on Front st. between Euclid av and Main st. He was taken there by his nephew and died a week later.
Mrs. Robert Navarre Jr. is a magnificent representative of the early pioneer women. Born in 1840 at Monroe, Mich., she came to Toledo when she was 4. She has a host of anecdotes of Toledo and Maumee Valley. Recounting the trips she used to make into Toledo from Cedar Point, she tells how the men loaded their sleds with deer skins and then traded them for store goods. The leading store at that time was oned owned by Pete Moroas at the corner of Cherry and Superior streets.
With a twikle in her eye, Mrs. Navarre recalls that a barrel of whisky always was standing in the center of the store. A tin cup was hung on the barred and everyone was expected to refresh himself.
"Times have changed since then," she adds.
The only method of crossing over to Presque Isle, where for a time she lived, was in a dugout canoe. Now, she declares, she regards such craft as highly dangerous.
The mother of 14 children, she has raised seven orphans besides. Mrs. Navarre is in good health and has remarkable retension of her faculties.
As a child she shot wild game with her father's gun. She danced on the floor of the Navarre cabin and sat before its capacious fireplace, drinking in the tales of adventure and hairbreadth escapes told by the doughty Navarres.
---
1Cf. Isaac Wright's The East Side: Early History of East Toledo up to 1894, pp 101-102:

The first hotel [in East Toledo] was built by Ambrose H. Rogers in 1851, on Front Street, near Oak. Mr. Rogers conducted business until his death by cholera in 1854, when it was taken by his widow, Mrs. Hannah Rogers, who conducted it until 1886, when it closed.
---

---
Toledo Blade, Saturday, September 9, 1922, P28:7

PARK WILL GET
NAVARRE CABIN
---
Historic Dwelling to Be Presented to City Saturday.
---
The memory of Peter Navarre, pioneer, Indian fighter, and hero of the War of 1812, will be fittingly celebrated in ceremonies in Navarre park Saturday [September 9, 1922] when in the presence of Mayor Brough, public officials and representatives of military societies, the historic Navarre cabin will be presented to the city.
The cabin, which for more than three score years stood on its Mominee site out Consaul street, recently was moved to Navarre park. The presentation speech will be delivered by Mrs. Flora Young, representing the Ladies of the G. A. R. Mayor Brough will formally accept the cabin on behalf of the city. Other speakers are Nevin O. Winter, historian; Judge Aaron Cohn and Mrs. Robert C. Morris of the Service Star legion.
Descendents of Peter Navarre will be present at the ceremonies which are scheduled to begin at 2. P. M. Included among these are Ruth and Gladys Navarre, granddaughters of the pioneer famous in the early history of Northwestern Ohio.
---

---
Toledo Blade, Monday, September 11, 1922, P28:7

NAVARRE CABIN
IS DEDICATED
---
Pioneers Pay Tribute to Brother Scouts in War of 1812.
---
The old cabin of Peter Navarre, American scout in the war of 1812, was dedicated in Navarre Park Saturday afternoon [September 9, 1922].
The cabin was built by the scout on what is now the farm of Enos Mominee [Momenee] of Momineetown. Mr. Momienee [Momenee] presented the cabin to the city and it now is located in a commanding position in Navarre park.
Mayor Bernard F. Brough presided at the exercises which included talks by the mayor, Mrs. Robert C. Morris, Judge Aaron B. Cohn and Mrs. Helen Wolcott Dimick, regent of the Ohio Daughters of 1812. Rev. Patrick O'Brien, former pastor of the Good Shepherd church and old-time East Side resident, offered the invocation.
The event was the occasion of the meeting of pioneer residents, Civil war veterans and descendants of the families of Peter and Robert Navarre. Eli Navarre, 90, son of Peter Navarre, was present.
Mrs. Flora B. Yong of Ford circle, Ladies of the G. A. R. presented a flag which will fly from the flagstaff in front of the cabin. Among the relics of early days are some old bear traps and a picture of Peter Navarre. Robert Navarre, brother of Peter, also was an active scout in the War of 1812 and in the dedication of the Navarre monument in Navarre park 10 years ago, honor was paid to both scouts.
---

---
Phelps, Ralph E. Toledo Blade, 1940s.
Street, School Named For Him


Peter Navarre, Early Settler of East Toledo Played A Key Role As Scout in War of 1812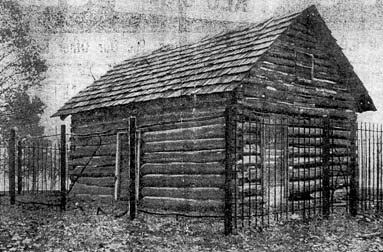 PETER NAVARRE'S CABIN, WHICH STANDS TODAY IN NORTHERN PART OF NAVARRE PARK
For lack of care, it is becoming a monument to neglect, vandalism and decay
General's Trusted Runner Carried Perry's Message
By RALPH E. PHELPS
Blade Staff Writer
One of the most prominent of the early settlers of the Maumee Valley was French-Canadian Peter Navarre.
Said to be the grandson of a French army officer who visited the lower Maumee Valley in 1745, Peter Navarre was born in Detroit in 1705, one of six brothers [Robert, Peter, Alexis, Antoine, Francis, and James].
In 1807, with his brother, Robert, he built a cabin on the East side of the Maumee River near its mouth. This was his home until he died.
Peter Navarre became a trapper, and in his numerous contacts with the Pottawatomie Indians he soon learned to speak their language. He also became fairly proficient in the dialects of the other tribes in the area.
Peter Navarre became an expert woodsman and trapper. For several years he was employed by a Detroit firm to buy furs from the Indians near Fort Wayne, Ind. While in this occupation he met Chief Little Turtle and became his friend.
When the War of 1812 started, Navarre, with three of his brothers [Robert, Francis, and Alexis], offered their services as scouts to General William Hull, who headed an American army en route to Detroit to drive out the British.
But to Peter Navarre's disgust and bewilderment, General Hull did not follow the advice or utilize the information that he gave him, and wound up surrendering his army to the British.
Peter Navarre and his brothers were placed on parole, but the little group quickly broke parole to become scouts for Gen. William H. Harrison.
Peter Navarre soon became General Harrison's most trusted scout. He endured great hardships to thread his way through the heavy forests and swim swollen creeks and rivers to obtain information for the general.
General Harrison assigned him to Gen. James Winchaester, who headed an army to move against the British and Indians. Windchester had sent forward a small army to Frenchtown (Monroe), Mich., while the remainder of his force remained at Fort Miami.
Through French settlers who learned the British and Indians were massing at Fort Malden, Ont., and preparing to attack the American force at Frenchtown. But his warning was ignored, with the result that the little army was destroyed. This engagement has been called the River Raisin massacre.
Peter Navarre and his brothers escaped by jumping across ice floes in the river. They were able to make way across the ice of western Lake Erie and Maumee Bay to Presque Isle. There they obtained ponies and made their way to Fort Stephenson (Fremont).
Learning that General Harrison was at Fort Meigs, the Navarre brothers hurried through the forest to join him.
PETER NAVARRE
A pioneer East Toledoan
GENERAL HARRISON told Peter to go to Commodore Oliver Hazzard Perry at Put-in-Bay to inform him that Harrison intended invading Canada, but not until the British fleet in western Lake Erie was eliminated. He carried another message from General Harrison that the British then were preparing to leave their Canadian haven.
Commodore Perry was ready, and when the British sallied forth, he met them several miles northwest of Put-in-Bay and destroyed the enemy fleet. It was a proud moment for Peter Navarre when he carried to General Harrison Commodore Perry's famous message: "We have met the enemy and they are ours. Two ships, two brigs, one schooner and one sloop."
Peter Navarre took part in the Battle of the Thames, then He helped burty the Indian chief Tecumseh, killed in that engagement. With the war over, he returned to his home on the East Side of Toledo.
Because his name was not on an elistment roll, Navarre could not be paid for his services, but a special act of Congress took care of that.
Peter Navarre spent the rest of his life in East Toledo. He died Mar 20, 1874, at the age of 89.
His second and last cabin today stands in the northern part of Navarre Park. For lack of care, it is becoming a monument, not to a great scout, but to neglect, vandalism, vagrancy and decay.
Peter Navarre also is honored by giving his name to a street and to a scool in Toledo.
---

---
Toledo Blade, 1970's.

Navarre Cabin To Get A New Look
Blade Photo by Don Simmons
CABIN FEVER. Susan LeCron, left, and Mrs. Roy Rike are scouting the Toledo area for items to fill the Peter Navarre cabin, now the focal point of the 1837 pioneer homestead in Crosby Gardens.
By CAROLE WILLIAMS
Blade Staff Writer
T LAST, the log cabin attributed to Peter Navarre seems to have found a home and, perhaps, even a vocation.
The cabin was moved last fall from Toledo Zoological Park to George P. Crosby Gardens, where it will become the focal point of a pioneer homestead and the site of numerous demonstrations.
Not surprising that Navarre, one of the famous scouts of the War of 1812, and a trapper, was a wanderer -- but it might surprise the Indian-fighter to learn how much wandering his former home has done.
It was built in Mominee Town, east of Toledo. Originally, it was believed that Navarre and his brother, Robert, built the structure in about 1807, but later studies showed that the cabin probably was constructed by Peter Navarre, Jr., sometime toward the end of his father's life. The senior Navarre died in 1874.
In 1922, when Toledoans still observed a Peter Navarre day in September [September 9], the cabin was moved to Navarre Park. There it fell into disrepair and almost was slated to be torn down before local patriots rescued it and moved it to the zoo in 1957.
In the zoo it remained until Crosby Gardens board members asked if they might have the cabin as a focal point for an 1837 pioneer homestead. The date was chosen not because of the age of the cabin, but because it was in that year that Toledo became a city.
Because Navarre probably traveled light and furnished his home with few comforts, the Crosby board has decided against furnishing the cabin in the Navarre style. They feel that it would have more interest if furnished as it might have been for a frontier family. Similar cabins were in use as family homesteads in the Ohio area.
The Trilby-West Toledo Rotary Club initiated the move to Crosby Park, and, through the help of contributions from local builders, settled the cabin in under a sweet apple tree -- one of a few of its kind remaining -- the main parking lot.
The Rotarians built a rail fence around the area and are planting grapes typical of the era along the fence. The Men's Garden Club and Maumee Valley Herb Society members will landscape the enclosed cabin yard with fruits, vegetables, flowers, and herbs common to the garden of
the Ohio homestead. A fireplace will be added to the cabin by the Onized Club of the Owens--Illinois Technical Center.
To get fullest use out of the cabin, it became obvious that the building would have to be open -- so committees were set up to furnish the small building and to maintain it, to plan craft demonstrations in and around it, and to publicize the activities.
The furnishings committee, headed by Mrs. Roy Rike and Susan LeCron, assisted by Wayne Siddens and Mrs. C. Justus Brown, already is at work, looking for gifts of items to fill the cabin.
Committee workers would like to get period pieces -- not fine antiques, but pieces typical of pioneer homesteads of the era. Among the items they are hoping Toledoans will be able to provide are a low cannonball-type rope bedstead, which will be fitted with a cornhusk mattress; a small table, perhaps a hutch-style; tableware including iron and wooden pieces and pewter chargers; candle molds; spinning and weaving supplies including a carding machine and small loom; iron pots, warming pans, and candleholders; a chest or corner cupboard of a somewhat finer style -- the one prize piece the housewife would have insisted on bringing with her in the wagon -- and Windsor-type chairs with splint bottoms.
Many demonstrations are being planned to take place inside the cabin before the new fireplace, while others will be over an open fire outdoors in a summer kitchen, still to be constructed.
Target date for furnishing the cabin is April 10, when the demonstrations, arranged by a committee headed by Marilyn McCormick, begin. The first scheduled event is a demonstration of sheep shearing and spinning. It will be followed on succeeding weekends by demonstrations of making willow whistles, pottery, weaving, black-pot cooking, printing, tin craft, coppering, etc. At each demonstration, a sheet of information will be handed out, prepared by a committee under the guidance of Judy Robinson.
Vernon Wiersma, landscape architect[,] who is directing landscaping of the cabin (and also shearing sheep, doing coppering, etc.), explained that as it becomes possible, the surroundings of the cabin will become increasingly authentic. For example, instead of only planting roses typical of the period, the Crosby Gardens board hopes to locate remnants of roses actually growing in the area at the time, as documented by local records, and plant shoots of those roses near the cabin.
Official dedication of the 1837 pioneer homestead will be May 22, the date of the annual Crosby Gardens May Festival.
Persons who have materials to contribute to furnishing the homestead may contact Crosby Gardens, Elmer Drive, or Members of the furnishings committee.

---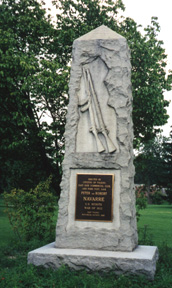 ERECTED BY
CITIZENS OF TOLEDO
EAST SIDE COMMERCIAL CLUB
AND FORD POST, GAR
PETER AND ROBERT
NAVARRE
U.S. SCOUTS
WAR OF 1812
EAST TOLEDO
HISTORICAL SOCIETY, 1989

John M. Killits, ed. Toledo and Lucas County. Chicago: S. J. Clarke; 1923 (p. 597).

Navarre Park--The site of Navarre Park, containing fifty-three acres, was acquired by the city in 1893. It is located in East Toledo, between the Belt Railroad and Varland Avenue, and extends from East Broadwasy to Navarre Avenue. It was named for Peter Navarre, the noted Indian scout, who was for several years the president of the Maumee Valley Pioneer Association. On Saturday, September 9, 1922, the log cabin in which Peter Navarre formerly lived, was dedicated in this park. The cabin was built by the famous scout about the close of the War of 1812, near the present Village of Momineetown, in Oregon Township. Enos Mominee, who became the owner of the farm, offered to present the cabin to the city and it was removed to Navarre Park, where it was reconstructed as a historic memorial. Mayor Bernard F. Brough presided at the dedication and accepted the memorial on behalf of the city. Addresses were delivered by Nevin O. Winter, Judge Aaron B. Cohn, Mrs. Robert C. Morris, Mrs. Helen Wolcott Dimick, regent of the Ohio Daughters of 1812, and others. Among those present were Eli and Peter Navarre, the former ninety years of age, sons of the original builder of the cabin.



---

---
Toledo Blade, September 24, 1937, P35:3

Navarres, Peter and Robert,
Made History for East Side
---
American Scouts Best Known for Their Services in War of 1812; Their Descendants still Residents of District.
The Navarres had a leading part in making East Side history. Peter and Robert Navarre, American scouts in the War of 1812, are best known for their services then. A monument in their honor was erected in Navarre park and dedicated July 4, 1914.
Their grandfather, Robert Navarre, a French army officer, is said to have visited here in 1745. Peter and Robert were born in Detroit and came here and built a log cabin near Presque Isle in 1907 1807.
At that time there was an Indian village there. They became familiar with the Indians who were friendly then. When the War of 1812 broke out the Navarres tried to persuade General Isaac Hull to enlist the Miami Indians. He refused and they joined the British. General Hull included the Navarres in his disgraceful surrender, but they denied his right to do this. Thereupon General Proctor of the British force offered a reward of $1,000 for the capture or scalps of these men.
One of the most noted exploits of the Navarres was that of Peter in carrying a message from Ft. Meigs to Ft. Stephenson ([at] Fremont) through the British and Indian lines. He made the trip through the woods during a thunderstorm.
After the war he returned to his cabin near Ironville. He died March 20, 1874. The exact time of the death of Robert is unknown. Both left families whose descendants still live around the East Side.
The memory of the Navarres was neglected until Ford post, G.A.R., and other patriotic residents stated the movement to erect the monument. The dedication, July 4, 1914, was in charge of the following committee: Capt. George Scheets, chairman; Capt D. H. James, secretary; A. J. Eggleston, treasurer, and C. F. Brown.
---

---
Toledo Blade, October 5, 1936

PETER NAVARRE
PORTRAIT HUNG
---
Historical Treasure to Be in Commodore Perry Indefinitely.
---
William H. Machen's life portrait of Peter Navarre, United States scout in the War of 1812, has been hung in the Commodore Perry hotel lobby through an arrangement concluded by the Historical Society of Northwestern Ohio with members of the family of Henry Hall, early Toledo merchant, and the Soldiers' Memorial association.
The historical society has acquired possession of the painting and a gun which Navarre carried for half a century, Walter J. Sherman, president, announced. The gun is being displayed in the hotel in a case under the painting and both objects will remain there indefinitely. [After the closing of the Hotel, the painting was displayed at the Zoo. It now hangs in the local history room at the Toledo Public Library.]
The Machen painting was executed in 1867 by the artist, a Toledoan, on a commission by Mr. Hall. It hung for many years in the Hall home at Madison avenue, and Thirteenth street, which in later years became the first home of the Museum of Art.
Following Mr. Hall's death and the removal of the Hall family to Cincinnati, the painting was given a place in the historical collection in Memorial hall. Mrs. John H. Hall, Cincinnati, widowed daughter-in-law of Mr. Hall, assisted in the renovation of the painting before its transfer.
---
Display under painting
Late in life Peter Navarre stated this gun originally a flintlock was changed into a percussion lock in 1837. It had been in his possession 56 years and was finally presented to his friend Henry Hall, of Toledo, the owner of this portrait by Machen, painted from life in 1867 in which this gun appears.
---

---
Dodds, Gilbert F. "Reward for Scout's Scalp." Zanesville, The Times Recorder. Thursday, July 27, 1939, P4:4

---
Interesting Tales
Of Ohio History
By GILBERT F DODDS
(Written for Associated Press)
REWARD FOR SCOUT'S SCALP
Captured with his two French-Canadian brothers when Fort Detroit was surrendered to the Americans by General Hull during the War of 1812, Peter Navarre at once took an active part on the side of the Americans.
Learning that Peter was acting as scout for the American General, William Henry Harrison, General Proctor offored $1,000 for his scalp. Peter continued his scouting unscathed until the close of the war, however.
Because Peter was not regularly enrolled, no pension could be provided him by law, but he spent his last years in comparative comfort on an annuity granted him by a special act of congress.
---

---
Plaque on Peter Navarre's Cabin, 1957
NAVARRE CABIN
A MEMORIAL TO PETER NAVARRE 1790-1874
PIONEER CITIZEN OF LUCAS COUNTY
DARING SCOUT WHO SERVED
THE UNITED STATES
IN THE WAR OF 1812
THIS CABIN, ORIGINALLY LOCATED NEAR MOMINEE­ TOWN EAST OF TOLEDO, WAS BUILT BY PETER NAVARRE, JR. DURING HIS FATHER'S LATER DAYS. IN 1922, IT WAS MOVED TO NAVARRE PARK IN EAST TOLEDO BY THE PETER NAVARRE CHAPTER, UNITED STATES DAUGHTERS OF 1812. IN 1957, THE CABIN WAS RE-ERECTED ON THIS SITE BY THE PETER NAVARRE MEMORIAL ASSOCIATION IN COOPERATION WITH THE TOLEDO ZOOLOGICAL SOCIETY AND THE ANTHONY WAYNE PARKWAY BOARD.
TABLET PRESENTED BY
THE HISTORICAL SOCIETY OF NORTHWESTERN OHIO
1957
---

---
Thrapp, Dan L. "Pierre Navarre." Encyclopedia of Frontier Biography. Glendale, CA: The Arthur H. Clark Co, 1988.
---
Navarre, Pierre, scout, fur trader (Mar 28, 1790-Mar. 20, 1874). B. at Detroit, the best account of this obsure man's life is in the Dictionary of American Biography. This reference work states that his family moved to the Raisin River area while he was yet yound, and about 1807 he and a brother, Robert, built a cabin on the Maumee in present Ohio. Pierre early began trading for furs as far west as Fort Wayne, where he reportedly met and became friendly with Little Turtle. In the War of 1812, Pierre was captured at Detroit, released on parole, and became a scout under Brigadier General James Winchester, escaped the Raisin River Massacre in 1813, then scouted for William Henry Harrison. Navarre took part in the Battle of the Thames, claimed to have witnessed the death of Tecumseh and to have assisted in his burial. After the war he resumed fur trading, working for the American Fur Company in Illinois and Indiana. About 1820 or shortly after he retired to a Toledo, Ohio farm. Twice married, he fathered Children
DAB
---

---
Cave, Alfred A. "Pierre Navarre." American National Biography. Oxford U. P., 1999: (N:B251-A252).
---
NAVARRE, Pierre (28 Mar. 1790?-20 Mar. 1874), fur trader and military scout, was born in Detroit, Michigan, the son of François Utreau Navarre and Marie Louise Godet. Pierre (also known as Peter) was of French descent. His grandfather Robert Navarre, an officer in the French army, was a pioneer settler of Detroit and author of "Journal of the Conspiracy of Pontiac" (later published as Journal of Pontiac's Conspiracy 1763, ed. R. Clyde Ford [1910]), which has provided historians with valuable insights into the 1763 Indian uprisings. The Navarre family resettled on the River Raisin south of Detroit during Pierre's childhood. He moved in 1807 to the mouth of the Maumee River, where he built, with his brother Robert, a cabin near an Ottawa village where the widow and son of Pontiac resided. As a young man, Navarre, fluent in Potawatomi and conversant in several other Indian dialects, made his living as a fur trader. His trading activities in the early years of his career were centered around Fort Wayne. His brothers also entered the Indian trade. The treaty signed by the Ottawa and the federal government in 1833 included a provision allocating 800 acres of former Ottawa land to the Navarre family, with the explanation that "the said Jacques, Robert, Peter, Antoine, Francis and Alexis Navarre have long resided among these Aborigines, intermarried with them, and been valuable friends."
As a trader, Navarre formed a close association with the Miami chief Little Turtle. After the outbreak of hostilities between the United States and England in 1812, he sought to arrange an alliance between the Miami and the United States but was rebuffed by General William Hull. The Miami fought on the British side. With three of his brothers-Robert, Alexis, and Jacques-Navarre joined Hull's army. The brothers were taken prisoner when Hull surrendered Detroit but were later paroled. They broke their paroles by volunteering as scouts in General James Winchester's army. It is said that the British commander, General Henry Proctor, placed a £200 bounty on Navarre's head. Navarre provided invaluable service to the American cause as a courier for General William Henry Harrison. On 5 August 1813 he carried a message from Admiral Oliver Hazard Perry at Port Clinton to Harrison at Fort Meigs that led to the crucial reinforcement of Perry's forces. On 9 September, disguised as an Indian, Navarre crossed the British lines to deliver a fateful message to Perry from Harrison that impelled the latter to engage the enemy in the battle of Lake Erie. Navarre also participated in the battle of the Thames and later claimed to be Tecumseh's killer.
After the war, Navarre resumed his work as a fur trader, but he quarreled with his employers and took up farming at his cabin on the Maumee. Navarre was married three times. With his first wife, Catherine Susor, he had one child. In 1825 Navarre, probably a widower, married Geneveva Robert; they had one child who lived only two days. Geneveva died in 1827. Navarre's third wife was Catherine Bourdeau, with whom he had two sons. Property and tax records suggest the Navarres were not particularly prosperous, but he did enjoy the esteem of his fellow Toledans. Greatly in demand as a raconteur, Navarre's vivid stories of his military service were a mainstay of the meetings of the Maumee Valley Pioneer Association, an organization that he headed for several years. While Navarre particularly enjoyed recounting his heroic nighttime trek in a torrential downpour from Fort Meigs to Fort Stephenson and back bearing dispatches for General Harrison, the greatest historical interest attaches to his eyewitness account of the death of Tecumseh. Navarre insisted that Richard Mentor Johnson did not kill the chief; in some versions he claimed, that he had fired the fatal shot to protect Johnson. In 1863 Navarre told historian Lyman C. Draper that, at the time of his death, Tecumseh "was standing behind a tree that had been blown down, and was killed by a ball that past diagonally through his chest. After his death he was shot several times, but otherwise his body was not mutilated in the least, being buried in his regimentals, as the old chief desired, by myself and a companion, at the command of General Harrison. All statements that he was scalped are absolutely false." Historians have ridiculed Navarre's claim that Tecumseh was buried in British regimental garb, doubt his boast that he was Tecumseh's killer, generally accept his testimony about the state of Tecumseh's corpse, and do not know whether he was part of a burial party or not. Navarre's credibility is undermined by his patently false assertion that he was closely acquainted with Tecumseh.
A colorful character, immortalized in W. H. Machen's often reproduced portrait that shows Navarre in the garb of a forest scout, this pioneer son of the frontier spent his waning years embellishing his memories of a heroic youth. He may have exaggerated his age, for while he claimed to have been born in 1785, other evidence suggests that he was five years younger. Originally denied a military pension because of the absence of documentary evidence of his enlistment, Navarre was granted a stipend of eight dollars a month for life by special act of Congress in 1864. Impoverished in his old age, Navarre died in Toledo and was buried in an unmarked grave at Mount Carmel Cemetery. A monument honoring Peter and Robert Navarre was erected at Navarre Park in East Toledo in 1914. A cabin built by Navarre's sons late in his life also became his monument. Moved to Navarre Park in 1922, it was twice relocated, first to the Toledo Zoo in 1957, and more recently it was installed as part of a frontier life exhibit at the Toledo Botanical Gardens. The Navarres are still remembered and honored as early Toledo pioneers.
Navarre's account of the death of Tecumseh is in the Draper manuscripts, State Historical Society of Wisconsin. On his family background, see Christian Denissen, Navarre; or, Researches after the Descendants of Robert Navarre (1879) and Genealogy of the French Families of the Detroit River Region (1987). On Navarre's career, the following are useful: H. L. Hammer. Early History of the Maumee Valley (1858); Clark Waggoner, History of the City of Toledo and Lucas County, Ohio (1888); Charles Elihu Slocum, History of the Maumee River Basin (1905); John Sugden, Tecumseh's Last Stand (1985), and Larry R. Michaels, East Side Story: People and Places in the History of East Toledo (1993).
ALFRED A. CAVE
---

---
Saint-Pierre, T. (Télésphore). Histoire des Canadiens du Michigan et du comté d'Essex, Ontario,
202-203. Montreal: s.n., 1895.
---
LE CANADIENS DU MICHIGAN
LE RÉGIME AMÉRICAIN
---
Le lieutenant-colonel François Navarre, son fils, Robert---end page 202---Navarre, et son neveau, Pierre Navarre, s'enrôlèrent sons les ordres du général Hall, qui venait prendre le commandement de Détroit.
---
---

---
Porter, Tana Mosier. "The Early Settlements, 1760-1837." Chap. in Toledo Profile: a sesquicentennial history,
13-22. Toledo, Ohio: Toledo-Lucas County Public Library, 1987. (LC 87-50218) (ISBN 0-9618210-1-9)
---
The Indian Lands, prehistory - 1814
---
On June 18, 1812, The United States declared war on Great Britain. In addition to making trouble with the Indians, the British had regularly interfered with American trade at sea and kidnapped American sailors for service in the British navy. The western Indians fought for Great Britain in the War of 1812, with one motive: to keep the Maumee Valley. The first battle in the war was in 1811 at Tippecanoe on the Wabash River in Indiana, where Governor William Henry Harrison of the Indiana Territory defeated a confederacy of Indian tribes led by the brother of the Shawnee chief Tecumseh, who called himself The Prophet.

Governor Hull of Michigan had for some time advised a stronger army in the Northwest, and in 1812 he added that the United States should have a fleet on Lake Erie. On June 1,1812, Hull led a force from Dayton to conquer Canada. He reached Detroit on July 12, where he learned that the United States and Great Britain were at war.

---end page 8---

Hull surrendered his army to the British Colonel, Henry Proctor, without a fight on August 16, giving as reasons, a lack of supplies and reinforcements, and fears of Indian vengeance. After Hull's surrender Tecumseh and his Indian confederation took control of the Maumee Valley as far west as Fort Wayne.

At daybreak on January 22, 1813, Colonel Proctor surprised General James Winchester of Tennessee in his camp at Frenchtown, now Monroe, Michigan. Winchester, too, was on his way to invade Canada. The enemy surrounded the American camp during the night. They found Winchester unprepared, even though the French scout, Peter Navarre, had warned him that the night before, an army of about three thousand British and Indians had left Fort Malden, at Amherstburg, just across the Detroit River in Canada. Most of the Americans were killed or captured in the River Raisin Massacre.

General Harrison arrived at the Maumee River too late to save Winchester's army in Michigan. On January 23 he burned the blockhouses and ordered the settlers to evacuate the Maumee Valley. Harrison began the construction of Fort Meigs, near Perrysburg, in February 1813. Chief Army Engineer, Eleazar P. Wood, for whom Wood County was named, supervised the building of the fort, which was named for Ohio Governor Return Jonathan Meigs. Tecumseh and his Indians immediately surrounded the fort, and on April 28, 1813, the British attacked. Because the supply of ammunition had not come from Pittsburgh with the cannons, the Americans had only seven hundred cannonballs. To overcome the shortage, Harrison offered his soldiers extra rations of whiskey for gathering up British cannonballs, which were then fired back at the enemy. The siege of Fort Meigs lasted until May 5. On May 4 the British seemed to be winning, but Harrison would not give up the fort, and that night reinforcements arrived from Kentucky. A company of the Kentucky troops, under Colonel William Dudley, crossed the river to the British camp during the night. After disabling the British cannons, they failed to obey orders, and were ambushed before they could get back to their boats. More than half were killed or captured in this skirmish known as Dudley's Defeat. Colonel Proctor decided that, with the extra troops, the fort was too strong and he abandoned the siege. On July 21 Proctor again tried to take Fort Meigs, but he gave up on July 28, and moved on to Fort Stephenson at Fremont. Failing there, Proctor returned to Canada and made no more attempts to invade Ohio. . .

The British, with a substantial fleet based at Fort Malden, controlled Lake Erie, while the Americans had no armed ships west of Niagara Falls.

---end page 9---

---start page 11---

Peter Navarre 1785 - 1874

The Americans planned to capture Detroit and invade Canada, but since supplies and troops could be moved more quickly and easily on water, they had to first get control of the lake. Commodore Oliver Hazard Perry was sent to Erie, Pennsylvania, early in March l883 to supervise the building of an American fleet.
The nine American vessels were completed on August 2, and Perry spent the next two days getting them across the sand bar that blocked the Erie harbor. He immediately sailed in search of the British, who had watched outside the harbor while he built and launched his ships, but they had gone hack to Fort Malden to get more men and their own new ship. Perry returned to Erie to pick up ninety sailors sent from the American navy on Lake Ontario, and sailed again, reaching the Sandusky Bay on August 5. Through Peter Navarre he made contact with General Harrison and gained about seventy more men, some sailors, and some volunteers who had never seen a ship before, but who could shoot. The main body of Harrison's army remained at Port Clinton until after the battle. Perry wanted to destroy the British fleet before loading the troops for the trip to Canada, but he knew the British would wait to attack until the army was on the ships, so he sailed to Fort Malden to find the enemy. When the British fleet, under Captain Barclay, did not accept his challenge, he returned to Put-In-Bay.
At sunrise on Friday, September 10, the British ships were sighted sailing out from Fort Malden. Perry immediately sailed to meet them. The British had only six ships to Perry's nine, but theirs were larger and carried more guns, and were manned by more experienced sailors. They met about noon in open water northwest of the islands. Perry's flagship, the Lawrence, took the first fire, and much of her rigging was soon shot away, leaving her helpless. Finally, Perry left a junior officer in command of the Lawrence, and went in a small boat to the Niagara. At about this time a breeze picked up, and Perry was able to sail through the enemy's lines, firing all the Niagara's guns on the British ships. The smaller ships joined the Niagara. With this the tide of battle turned in Perry's favor, and he captured the whole British fleet. The British and American sailors who died in the battle were buried at sea, and all the officers were buried at Put-In-Bay. On September 12, 1813, General Harrison received the message, "Dear General -- We have met the enemy and they are ours--two ships, two brigs, one schooner, and a sloop."
Perry then sailed to Port Clinton where he picked up the supplies and troops waiting there. When Perry's ships reached Canada the Americans found that the British had burned Fort Malden and retreated up the Detroit and Thames Rivers.
---end page 11---
On October 5 the American armies caught up with the fleeing British on the Thames River about seventy-five miles from Detroit. The battle lasted twenty minutes. Colonel Proctor and his Indian forces were defeated, and the Indian leader, Tecumseh, was killed, ending the War of 1812 in Ohio. The war ended officially with the signing of the Treaty of Ghent on Christmas Eve 1814. Though neither the United States nor Great Britain gained territory as a result of the War of 1812, the Maumee Valley benefited from General Harrison's military campaigns. The Indian confederation died with Tecumseh, ending the threat of Indian hostilities against the settlers.
---end page 12---
The Early Settlements, 1760-1837
---
When the first settlers came to the Maumee Valley, they built cabins and planted crops, even though the land still belonged the Indians. The fur traders, who built trading posts along the Maumee River, came first, possibly as early as 1680, but they stayed only as long as their trade with the Indians prospered. The military reservations laid out after the Treaty of Greenville in 1795 encouraged permanent settlers, but the land had not been surveyed or offered for sale, so those who established homes within the reserves were squatters on government land. The area outside the reserves remained Indian territory, where only those few who had land grants from the Indians owned their farms.
Frenchmen Gabriel Godfrey and John Baptiste Beaugrande built a trading post at the foot of the rapids of the Maumee River, near the present site of the city of Maumee about 1790. Other French settlers followed, among them Pierre Momonee, Jacques Peltier, and a man named La Pointe. Pierre Menard, who later changed his name to Peter Manor, left his position as agent with the Northwest Fur Company to start a trading post in the same area about 1808. Probably the best known of the Frenchmen, Peter Navarre acted as a spy and scout for the Americans during the War of 1812. Born at Detroit in 1785, he came to the Maumee in 1807 with his brothers. They built a cabin on the east side of the river near its mouth, where a sizeable French settlement soon developed.
No record exists to positively identify the first English speaking settler, but George Knaggs may have come to the Maumee Valley as early as 1760. In 1785 the Ottawa Indians granted his son, Whitmore Knaggs, four thousand acres in the present city of Maumee, where in 1825 he built one of the first frame houses in the area. William McKee built his trading post near the Maumee River rapids in 1794, but he left the region before the War of 1812. Colonel John Anderson, a British Indian agent, established a trading post and a farm at the foot of the rapids about 1800 by some accounts, though others place him there in 1794. In 1807 six English families lived in what is now Maumee. David Hull, a nephew of General Isaac Hull, lived near the present site of Fort Meigs.
---end page 14---
James Carlin, a blaksmith, and his son, Squire Carlin, came from Monroe about 1807. Amos Spafford, the first federal port collector and postmaster, came here in 1805, bringing his family five years later to make their home in what became Perrysburg.
Settlement of the Twelve Miles Square Reserve officially began in 1807, two years after it was surveyed, and twelve years after the Indians relinquished it to the United States in the Treaty of Greenville. By 1812 sixty-seven families lived in the vicinity of the Maumee River rapids, scattered throughout an area that was also inhabited by Ottawa Indian tribes. At the start of the War of 1812 some of the Ottawas warned Peter Manor that hostile Indians planned to massacre all white families in the Maumee Valley. General Hull left a military detail to protect the settlers, but the soldiers soon abandoned the temporary fort, retreating to safer country. The settlers then had no choice but to leave their homes and farms until the war ended.
Three years later, in the summer of 1815, the settlers returned to find their cabins burned and their fields overgrown with weeds. Fort Meigs and a small garrison of American troops had replaced the Indian villages. Beginning immediately to rebuild, they assessed the damages. Through Amos Spafford, they applied to the United States government for compensation for their losses of crops and livestock at the hands of the British and the Indians. The claims ranged from $40 to $75, and totaled more than $4000, all of which the government eventually paid.
The end of the war brought an end to the threat of Indian hostilities, which brought more settlers. Perrysburg was platted in the Twelve Miles Square Reserve in 1816, and Maumee in 1817. Both quickly became thriving villages, though further down the river the site that would become Toledo remained undeveloped. Dr. Horatio Conant, who became collector of the port at Maumee, clerk of courts for Lucas County, and a justice of the peace, came to Maumee in 1816. John Hunt also settled in Maumee in 1816. He later served as the first state senator for the area. Wilson and Samuel Vance opened a store in 1816, and H.P. Barlow taught school in the settlement during the winter of 1816-17. His was most likely the first school in the Maumee Valley. Another important settler, Judge James Wolcott, came somewhat later, in 1826. In 1821 Wolcott married Mary Wells, the daughter of Captain William Wells and the granddaughter of the Miami Indian Chief Little Turtle. The Wolcott home, built along the Maumee River in 1827, became the social center of the community.
---end page 15---
---

---
Toledo Blade, June 28, 1987 (reprinted January 1, 2001)

SCOUT ROLE MADE NAVARRE FAMOUS
NOTE: THIS STORY WAS PUBLISHED JUNE 28, 1987
---
His cabin stands now in Crosby Gardens, but when this famous Toledoan lived there, the log structure always was on the city's east bank of the Maumee River.
Peter Navarre came to Toledo from Detroit [by way of Monroe] in 1807, living as a woodsman and trapper. But it was his role as a scout during the War of 1812 for which he became most famous.
At the war's start, he was with General William Hull, who headed an American army en route to Detroit to drive away the British. This noble effort ended up, however, with the general's surrender to the British.
The British placed Navarre on parole, with the understanding that he wouldn't take up arms with Americans.
Navarre never did officially enlist with the Americans [mdl note: This is not true, his enlistment papers are in Washington, DC at the National Archives], but he did fight on their side. General William H. Harrison came to rely heavily on the famed scout, who was the one to convey Commodore Oliver Perry's famous message of victory: "We have met the enemy . . . "
In fact, because Navarre's name never appeared on any enlistment rolls, it took a special act of Congress to pay him for his wartime services. [mdl note: According to files at the National Archives, the pension was denied through regular chanels NOT because Peter was absent from the rolls but because of his length of service--too little time had passed between his signing up at Monroe and the capitualation of Hull at Detroit a few weeks later. What is missing is any official re-enlistment when Peter violated his parole and joined up with Harrison. There is a thread of truth here. Peter did failed to obtain a pension because he did not re-enlist, but it is utterly false to say he never appeared on any roll or, as other suggest, that he was never actually in the army because he was French not American. His brother Robert was in exactly the same predicament regarding his parole and re-enlistment but his wife Susan Moore prevailed in obtaining a pension (by regular chanels) due to numerous corroborating affidavits filed in Washington. Almost everyone makes this statement as a fact without actually looking at the rolls themselves to verify the accuracy of this statement.]
In the early 1800s, Navarre also earned the dubious credit of killing the famous Indian warrior, Tecumseh, an ally of the British. According to several historical accounts, during a battle in Chatham, Ontario, Navarre saw an Indian crouching over the body of an American officer. He shot the Indian, who was identified the next day as Tecumseh. [Elsewhere he merely suggests that he buried him. The former claim is highly disputed.]
Navarre spent his post-war "retirement" days living quietly in Oregon, O. The famed scout of the War of 1812 lived into his 80s.
When he died in the 1870s, services for him were held in St. Louis Church, but he was buried on the other side of the river, in what is now known as Mt. Carmel Cemetary, at Manhattan Boulevard and Lagrange Street.
---

---
Toledo Blade, September 20, 2001

ARTIST'S VIEW OF OLD TOLEDO RETURNS TO CITY
---
Indian braves race along the Maumee riverbank, their ponies stretched out in identical long-legged poses. They gallop past teepees, toward a wooden fort. In the foreground, ducks flap and frolic, and a two-masted schooner moves upstream.
This represents downtown Toledo in 1796, before it was known as Toledo, before there was a downtown, before it was part of Ohio. This idealized view was supposedly recalled by Indian scout Peter Navarre, who described it in the mid-1800s to painter William Machen, the city's earliest historical artist.
The resulting 33-inch-by-49-inch canvas, titled Fort Industry, is on display for the next year at the local history department of the Main Library in downtown Toledo.
County and library officials gathered yesterday morning at the library to unveil the painting, borrowed for a year from the Western Reserve Historical Society in Cleveland.
That green riverbank portrayed in the painting is now home to the Radisson Hotel and a parking lot, at the intersection of Monroe and Summit streets.
"Our new Mud Hens stadium is right there," said Sandy Isenberg, president of the Lucas County board of commissioners, pointing to a bank of trees on the painting. "And this log is still there, in Swan Creek." She rolled her eyes and heaved a dramatic sigh. "It seems like only yesterday."
The Fort Industry picture, as well as one other Toledo view portrayed by Machen, will be displayed in the third-floor entryway to the local history section, said library director Clyde Scoles. "There's no more logical place for this painting to be than here, for all of Toledo and Lucas County to come and see it. How it made its way to Cleveland is anybody's guess," Mr. Scoles said.
John Alexander, Lucas County legal counsel, worked to bring the painting to Toledo. He said his interest in the picture reaches back seven years, to the earliest days of the Carty Finkbeiner mayoral administration.
"Carty wanted to do something special, and we discovered this painting. ... But borrowing it was put on the back burner, and finally faded from our thoughts," he said. But his interest reignited when he unearthed some project notes several months ago.
"I had an intern call all the art galleries and museums in Cleveland until we found it. Then we started making more inquiries about how to bring it here," Mr. Alexander said.
The painting is valued at $45,000, and was in storage when Mr. Alexander found it.
The library has dozens of historical paintings stored away in a warehouse, Jim Marshall, local history section head at the library, said. One of them is a Machen portrait of Peter Navarre, which hung in the Commodore Perry Hotel for many years. He hopes to put them on display soon, in the new library gallery and the history section.
Fort Industry is a good example of Machen's mature style, Mr. Marshall said. Its symmetrical trees and bushes, broad sky, and tiny figures were the idealized nostalgia of the 19th century, not meant to capture the actualities of frontier life.
"The Indians, for instance," he said. "We had some Ottawas here in 1796, but those horses? I really don't think they had so many horses."
Machen was born in 1832 in Holland, and immigrated to Toledo in 1848. He painted decorative still lifes, wildlife studies, landscapes, and portraits at his downtown studio, and created religious studies for area churches. His Stations of the Cross can be seen at St. Francis DeSales Parish, 501 Cherry St.
Machen Street, which is near Scott High School, was named for the painter's family, whose homestead stood nearby.
---

---
Rohrlich, Ruby. anthro-l: august-1995: Re: History. <http:// www.anatomy.usyd.edu.au /danny /anthropology /anthro-l /archive /august-1995 /0237.html>. Aug. 29, 1995.
---
Here is an example of how an actual historical event is modified through memorial knowledge before it actually becomes part of the written, historical record. This example demonstrates the pitfalls of doing sound historical or ethnohistorical research and the proper interpretation of the facts and events to arrive at historical knowledge or truth.
In the annals of the Old Northwest Territory, much has been written about the death of Tecumseh at the Battle of the Thames on October 5 during the War of 1812. No less than forty-five accounts of Tecumseh's death exist, each differing with one another in various points or details of the circumstances surrounding Tecumseh's death. One account is found by Peter Navarre in the local history of the Maumee Valley in Ohio. Peter Navarre was a legendary figure during the War of 1812. Being French he was employed by General William H. Harrison as a spy for the American Army. He escaped from the infamous River Raisin massacre after General James Winchester surrendered to the British at Frenchtown (Monroe, MI). He went on to the Battle of Ft. Meigs in 1813, carried messages to Ft. Stephenson at Sandusky, Ohio, and went on to Canada with the American forces pursuing General Procter and Tecumseh.
In his memoirs, Navarre states that he took part in the Battle of the Thames and that he fought under Col. Johnson's command at the battle. During the battle Col. Johnson had his horse killed under him and while he was down Tecumseh sprang from behind a tree to tomahawk and scalp Johnson. Navarre states ..."I saw an Indian powering upon my colonel and [I] fired with this gun upon him [Tecumseh]. He fell and the war cry of Tecumseh was heard no more..." (Peter Navarre, Memoirs, Manuscript Collection, Toledo-Lucas County Public Library, Toledo, Ohio, n.d.).
There are no corroborative accounts supporting Peter's claim. There is no indication of this event (Peter killing Tecumseh) in the early written accounts of the Maumee Valley where Peter resided. Nor are there any suggestions in his interviews with Lyman C. Draper in 1863 and 1866. In addition, it is known that Peter's memoirs were solicited for publication by John Gunckel for his book "The Early History of the Maumee Valley" which was published in 1902. This account by Gunckel appears in the Toledo News Bee for August 22, 1922 entitled "How I Slew Tecumseh!" in honor of the celebration and festivities of Peter Navarre Day on September 22, 1922 in Toledo, Ohio. Peter in his account of the death of Tecumseh states that Medard Labadie was with him during the battle, but Labadie's account mentions nothing of Navarre killing Tecumseh or even that Navarre was at the battle site. Labadie states that he was directed by General Harrison after the battle to help search for Tecumseh's body. Upon returning from the place where Col. Johnson was killed, the Indian lying next to him and supposedly shot by Navarre, was mutilated and disfigured in the face. Harrison who knew Tecumseh well identified the mutilated remains as Tecumseh from a large scar on the dead Indian's right thigh which Tecumseh had received from a severe burn during childhood.
Further, Dennis Au has come upon some records in the National Archives that are statements by the Navarre Brothers who were also in service with Peter during the War of 1812. One of these statements suggests that Peter was not at The Battle of the Thames, but actually sick in Detroit when the battle took place.
In summary, what we have are Navarre's memoirs written around 1866 at a time when he was already a local, super hero and whose memoirs were solicited by a local historian for publication in a book. No other accounts of the battle substantiate Peter's claim to having killed Tecumseh nor do these accounts even indicate that he was at the battle. Quite clearly what we have is a memorial account altered through time in specific details of a particular event that is simply false, but has become recorded as written fact in the local history of the Maumme Valley in Ohio.
The point is we will never reconstruct the actual events that have become recorded as written history, unless we go back to the primary sources for the event and compare other sources or accounts for accuracy and then trace the versions of the event through time to determine what is original and what is added to the story.
---

---
Larry Michaels, "Memories Are Readied For Peter Navarre Day"
The Press, September 4, 1989
Memories Readied For Peter Navarre Day

On Saturday, September 9th, the East Toledo Historical society and Toledo City Parks will sponsor Peter Navarre Day at Navarre Park.

At noon a new plaque will be dedicated in honor of Peter and Robert Navarre during a celebration of the 75th anniversary of the Navarre Monument. Representative Marcy Kaptur will be the featured speaker. Following the ceremony, there will be refreshments at the shelter house, historical exhibits, contest prizes for the children, and an authentic pioneer voyager campsite.

As early as 1922, a Peter Navarre Day was held at the park for the dedication of the restored log cabin. A city ordinance of 1923 officially set aside the second Saturday of September as the day to honor the famous East Side pioneer. No one can recall, however, when the event was last observed. Now, on the 75th anniversary of the monument, the East Toledo Historical Society will again honor the Navarres for their contribution during the War of 1812.

The Great Lakes were the crucial battleground between the British and Americans during that war. The British with their Indian alies [allies] had defeated the American forces at Detroit and Frenchtown (Monroe). Early in 1813 General William Henry Harrison commanded the American army at the newly constructed Fort Meigs. By that time, Admiral Oliver Hazard Perry had arrived at Put-in-Bay to challenge Admiral Barclay's British fleet.

It was at this critical point in the war that Peter Navarre proved so helpful to both Harrison and Perry. On August 5, 1813, he brought a message from Perry at Port Clinton to General Harrison saying that more soldiers were needed. Consequently, Harrison sent some Kentucky sharpshooters who proved to be very valuable during the naval battle on Lake Erie, Navarre also led them through the wilderness to join Perry's fleet.

Then on September 9th, Peter Navarre delivered perhaps the most important message of the war; Given little chance to get through the British lines, Navarre disguised himself as an Indian and was able to reach Admiral Perry with Harrison's plea to engage the enemy as soon as possible. Perry responded immediately and the famous Battle of Lake Erie was fought the next day. Most historians agree that it was Navarre who also brought Perry's often quoted reply back to General Harrison: "We have met the enemy and they are ours."

Peter Navarre also fought at the Battle of the Thames River in Ontario, where the courageous Indian leader Tecumseh was killed and the British army was forced out, of the Northwest Territory for the final time. In recognition for his valuable services, Navarre was given a tract of land out on the Bay, Shore where his cabin stood for many years. He continued to live in the area into his eighty-ninth year. Peter Navarre died on March 20, 1874, and is buried in an unmarked grave at Mt. Carmel Cemetery. At the time of his death he was president of the Maumee Valley Pioneer Association, a forerunner of, the Maumee Valley Historical Society.

All East Siders are invited to come and join in the long-overdue celebration, which will begin at noon at the Navarre Monument on the corner. (In case of rain, Sunday at 2:00) Bring a picnic or get hot dogs and pop at the shelter house after the ceremony. Prizes for the Draw Peter Navarre contest will be awarded, and the pioneer fur trader's campsite will be set up by Tim Kreps at the park. There will be activities for all ages. Come and celebrate, our East Side heritage on Peter Navarre Day September 9th.

Larry Micheals [Michaels] is a member of the East Toledo Historical Society.
---

---
Toledo Blade, September 19, 2002

NAVARRE ELEMENTARY SCHOOL HONORS ITS NAMESAKE
---
[Photos unavailable] Pupils from Navarre Elementary School on Navarre Avenue in East Toledo, above, participate in an obstacle race during the school's Peter Navarre Day celebration in honor of its namesake at nearby Navarre Park.
Larry Michaels, below, portrays Peter Navarre, a scout for the Army in the War of 1812 who became the first settler east of the Maumee River.
Terry Breymaier, left, portrays Robert Navarre, Peter's brother.
Students also learned about Indian crafts and heard the words of Abraham Lincoln.
---

---
Svoboda, Sandra. "Hall of Fame Will Honor Four for Civic Roles." Toledo Blade. Tuesday, February 19, 2004.

HALL OF FAME WILL HONOR FOUR FOR CIVIC ROLES
By SANDRA SVOBODA
BLADE STAFF WRITER

---
Peter Navarre crept out of Fort Meigs on a cold, rainy night during the War of 1812. Dressed as an American Indian, he headed to Put-in-Bay with a message for Comm. Oliver Hazard Perry on the eve of the Battle of Lake Erie.
Peter Navarre, above, and Tom Hart, George W. Pearson, and McClinton Nunn, from left below, are this year's inductees.
A week later, Mr. Navarre returned to what is now the Toledo area bearing Commodore Perry's most famous words: "We have met the enemy, and they are ours." The message described the defeat of the British fleet, saving the then-American northwest from becoming Canadian.
"That was significant. He wasn't a general or anything but he was an Indian scout and he ran messages because he knew the terrain better than anyone back then," said Mr. Navarre's great-great grandson, Toledo police Chief Michael Navarre.
Chief Navarre will be at the Valentine Theatre tonight to celebrate his ancestor's induction to the Toledo Civic Hall of Fame. Mayor Jack Ford will recognize four inductees after his State of the City address.
Also being inducted are Tom Hart, founder and chairman of a marketing firm that was synonymous with political advertising in Toledo; McClinton Nunn, the first African-American to head a public housing authority when he was appointed the Toledo Metropolitan Housing Authority's executive director in 1950; and George W. Pearson, East Toledo reporter for The Blade newspaper for more than 50 years.
"They all symbolized people who went beyond just doing their jobs and made real civic contributions that are still felt today in Toledo," said Barbara Floyd, university archivist and director of the Ward M. Canaday Center for Special Collections at the University of Toledo. She served on the selection committee.
Mr. Hart, who died in 1998, founded Hart Associates in 1965 and grew the company's client base to include local and regional organizations and companies. The firm handled the advertising for 11 consecutive winning mayors' races, from William Ensign's 1967 defeat of John Potter through Donna Owens' defeat of Carty Finkbeiner in 1987.
Mr. Hart then handled the advertising for the successful 1993 and 1997 mayoral campaigns of Mr. Finkbeiner.
Born in 1936, Mr. Hart graduated from Central Catholic High School and the University of Toledo.
Mr. Nunn was TMHA director from 1950 until his death in 1968. He was a nationally recognized authority on public housing, specifically for Toledo's diversification of low-rent housing programs, one of the first projects designed for the elderly, and construction of public housing on scattered sites that removed the stigma of institutionalized living in public housing, according to news reports at the time.
The McClinton Nunn Homes on Nebraska Avenue were named for him. Mr. Nunn, a native of Colt, Ark., earned a bachelor's degree from Arkansas Baptist College and a master's degree from Wayne State University.
"He came to town in a time when public housing was the up-and-coming thing," said Larry Sykes, Toledo Public Schools board of education vice president and a former nine-year member of the Lucas Metropolitan Housing Authority board. "He managed public housing and made it grow."
Mr. Pearson spent 52 years covering East Toledo for The Blade. He wrote an "East Side News" column that he used to crusade for projects including the paving of Front Street, the construction of Waite High School and the High Level Bridge, and the preservation of 300 acres of virgin timber for a park, now Oregon's Pearson Metropark, named for him.
A native of Covington, Ohio, Mr. Pearson came to Toledo in 1893.
Former Blade editor-in-chief Grove Patterson in 1955 wrote: "There has been no richer experience than my association with George Pearson" during some 45 years at The Blade.
"For years the 'first citizen' of the East Side community, I believe he devoted more hours to doing things for men and women who needed him, and to advance the well-being of his community as a whole, than anyone I have known," Mr. Patterson wrote.
---
---

---